by Sarah - October 12th, 2013.
Filed under:
Crocus
,
Price Reductions
.
Reduced price on items today at Crocus
blackberry 'Loch Tay' (blackberry) was £12.99 now £8.99
Position: full sun or partial shade Soil: any soil Rate of growth: fast-growing Other features: deliciously sweet and juicy fruit (late July to the end of August) Hardiness: fully hardy Bred at the Scottish Crop Research Institute, 'Loch Tay' produces an earlier, sweeter crop than 'Loch Ness'. The canes are thornless and semi-erect, so will need minimal support, and they produce a crop of medium-sized berries from late July down south and in warm, sheltered gardens, or mid August in more exposed locations. Garden care: Prepare the ground well before planting. Remove all weeds and dig in plenty of well-rotted manure and then plant at 2m intervals. Each spring, mulch well with well-rotted manure. Plants flower on one-year-old wood, so the new canes need to be separated from fruiting ones. After cropping, cut the fruiting canes down to the ground and tie in the new ones that have grown that year.
All in one feeding station was £32.99 now £29.99
This feeding station contains all that you need to create a bird feeding haven (or heaven), as well as providing an attractive focal point for your garden. Our all in one feeding station kit includes: Decorative four way hooks with fleur-de-lys finial. A heavy duty pole that comes in three sections to give an 1.85m (6'1″) feeder height. A bird bath support ring and bird bath with two bathing levels, so both small and large birds can take a dip. A small feeder hook with an integral decorative suet ball hanger. A large round micromesh feeder which ideal is ideal for feeding mealworm. Two seed feeders One peanut feeder One suet feast feeder Endorsed by the BTO (British Trust for Ornithology), it meets all the BSA (Bird Care Standards Association) standards Replacement Bird Bath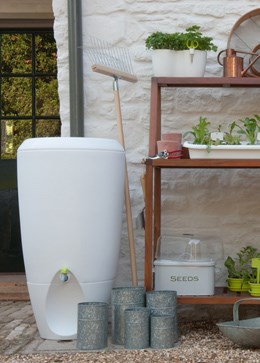 Pure rain water butt was £239.99 now £199.99
This is another water butt with a modern and contemporary design available in either white or cool grey. These are designed to fit any drainpipe adapter (not included). These water butts are designed to automatically fill during downpours and any excess rain will filter back into the drainpipe. Comes complete with tap for filling most watering cans and child -safe closure lid. Full instructions on how to fit the water butt is included. Comes complete with a 5 year guarantee. Dimensions: Height: 101cm Diameter: 50cm Holds up to 125 Litres