by Sarah - October 18th, 2013.
Filed under:
Crocus
,
New Products
.
Crocus has these new items today
Olea europaea (olive tree – (mini 1/2 standard)) £49.99
Position: full sun Soil: deep, fertile, sharply drained soil (or loam-based potting compost for container-grown specimens) Rate of growth: slow-growing Flowering period: June to August Hardiness: frost hardy (needs winter protection in cold areas) As our climate gets milder, the popularity of olive trees continues to grow. Olives respond particularly well to pruning, and they look elegant and modern grown as standards with a long, clear stem. The leaves are pointed, grey-green and leathery and are retained all year. Tiny, fragrant, creamy-white flowers are followed in hot summers by edible, green fruits. Olive trees make excellent specimens for a sunny, Mediterranean-style garden, or try this standard in a large pot to frame an entrance or terrace. In milder winters it can be left outdoors in a sheltered spot, otherwise, it will need to be overwintered under glass. Garden care: To protect against wind damage stake using a low angled stake, driven into the ground on the windward side at a 45° angle. Water regularly during dry periods, keeping the planting area weed-free. Apply a top-dressing of a nitrogen-rich general purpose fertiliser twice or three times each year during the growing season. Size Guide: 1/2 Standard plants have a 40-45cm clear stem with a 25-30cm diameter head 3/4 Standard plants have a 70-80cm clear stem with a 35-40cm diameter head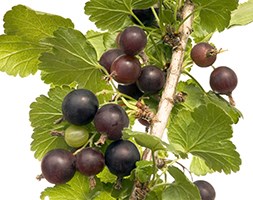 Jostaberry (Jostaberry) £6.99
Position: full sun Soil: any well-drained soil Rate of growth: average Other features: deep purple berries (late July) Hardiness: fully hardy A gooseberry and blackcurrant hybrid, the upright, thornless stems of this vigorous and disease resistant shrub are laden with deep purple coloured fruits, which have a unique flavour that is a combination of both parents. Ready to harvest in midsummer. Garden care: Prepare the ground well before planting. Remove all weeds and dig in plenty of well-rotted manure in to the area. Once planted, apply a mulch of well-rotted manure every spring, as well as a nitrogen and potassium fertiliser. Make sure the plant is watered in dry weather and net the bushes to protect the fruit from birds. In the first year, prune shoots back by half to three-quarters to an outward-facing bud in winter. After that prune out weak and older branches only.