by Sarah - October 28th, 2013.
Filed under:
Crocus
,
New Products
.
Crocus has this new item today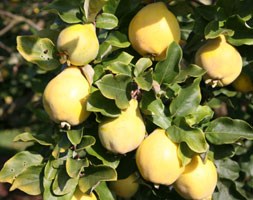 quince 'Vranja' (quince) £39.99
Position: full sun Soil: fertile, moist but well drained Rate of growth: average Flowering period: April to May Flower colour: pale pink to white Other features: quinces were once used as room fresheners Hardiness: fully hardy Native to rocky slopes in Southwestern Asia, quinces are attractive small, rounded trees with knarled and slightly contorted branches. The stems are clothed in shallow bowl-shaped, pale pink to white flowers in late spring, and these are followed by very fragrant pale green, pear-like fruits. These ripen in autumn to a golden yellow, and grow up to 8cm long. They are too bitter and hard to eat fresh, but when cooked the flesh softens and turns pink and makes a delicious jam. It is a very hardy plant, but it needs warmth and sun to fruit well, so in colder climates it is best trained against a south facing wall. It works well in oriental style gardens and it has received the Award of Merit from the Royal Horticultural Society. Garden care: When planting incorporate lots of well-rotted garden compost in the planting hole and stake firmly.