by Sarah - November 24th, 2013.
Filed under:
Crocus
,
New Products
.
New items today at Crocus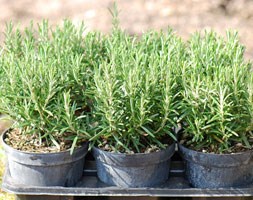 Rosmarinus officinalis (rosemary) £4.99
Position: full sun Soil: well-drained soil Rate of growth: average Flowering period: May to June Flower colour: purple blue Other features: leaves may be used to flavour lamb, pork and roasted vegetables Hardiness: fully hardy Upright spikes of aromatic, dark green leaves topped with purple blue flowers, from mid spring to early summer. This compact form of rosemary makes a fabulous, low, evergreen, flowering hedge for a sunny, well-drained site. It may be clipped into shape, retaining the young leaves for flavouring roasted vegetables, lamb and pork. Garden care: To ensure a plentiful supply of young, succulent leaves for culinary use gather the leaves regularly and prune each spring.
Aster novi-belgii 'Barbados' (Island Series) (New York aster) £4.99
Position: full sun or partial shade Soil: well-cultivated, fertile, moist soil Rate of growth: average Flowering period: September to October Hardiness: fully hardy Well branched sprays of violet flowerheads with yellow centres top strong growing, erect stems from late summer and often last until the first frosts. They act as a magnet for butterflies. Garden care: Stake with bamboo canes or brushwood in early spring. Water regularly during dry spells and deadhead regularly to prolong flowering. After flowering cut the flowered stems to the ground and apply a generous mulch of well-rotted garden compost or horse manure around the base of the plant. Seedlings rarely come true to the host plant. Asters are one of the easiest plants to take cuttings from. All you need to do is pull away sideshoots that have already rooted. These can then be potted up individually or planted directly in to the garden.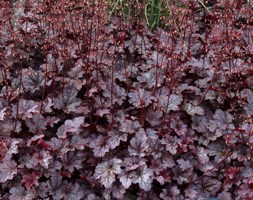 Heuchera 'Plum Pudding (PBR)' (coral bells) £3.99
Position: full sun or partial shade Soil: fertile, moist or well-drained soil Rate of growth: average Flowering period: June to August Hardiness: fully hardy Lobed, plum-purple leaves with darker veining and a light dusting of silver, form neat, slightly spreading mounds, which add colour and diversity towards the front of a border. Perfect for a bed with rich purples, lilac, soft pinks and silvers. Garden care: Lift and divide large clumps in early autumn and replant with the crown just above the surface of the soil. Apply a generous 5-7cm (2-3in) mulch of well-rotted organic matter around the crown of the plant in spring.