by Sarah - December 21st, 2013.
Filed under:
Crocus
,
New Products
.
Crocus just added these new lines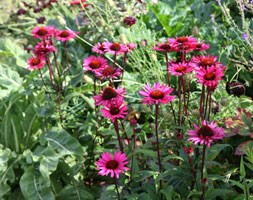 Echinacea purpurea 'Vintage Wine' (PBR) (coneflower) £9.99
Position: full sun Soil: most soils, except very dry or boggy Rate of growth: average Flowering period: June to September Hardiness: fully hardy An unusual variety of coneflower with scented, deep pink flowers that have shorter, stiffer petals than other varieties, and deep brown central cones. This cheerful, daisy-like echinacea flowers from midsummer through to autumn. It is a tough plant that does not need staking and it makes an excellent cut flower. Like other coneflowers, it is long-flowering and will cope well with adverse weather conditions, except drought. Try it dotted through a sunny, mixed border or in bold drifts among grasses. It is attractive to bees and butterflies and birds will flock to the seedheads. Garden care: Lift and divide congested colonies in autumn or spring. In autumn cut back all dead flower stems to the ground. Coneflowers benefit from a spring or autumn mulch with well-rotted compost.
Gillenia trifoliata (Bowman's root) £9.99
A pretty perennial that bears masses of irregularly star-shaped white flowers from late spring to late summer. In autumn the foliage turns fiery red and the winter seedheads are a bonus too. Ideal for growing as a cut flower. Position: partial shade Soil: fertile, well-drained soil, neutral to slightly acidic soil Rate of growth: average Flowering period: May to August Flower colour: white Hardiness: fully hardy Garden care: Divide congested plants in spring or autumn. Protect young shoots from slug attack
Cynara cardunculus (cardoon) £9.99
Position: full sun Soil: fertile, well-drained soil Rate of growth: average Flowering period: June to September Flower colour: purple Hardiness: fully hardy Huge, purple, thistle-like flowers from June to September held above enormous clumps of deeply-cut, silvery-green leaves. This magnificent, architectural plant is perfect towards the back of a mixed or herbaceous border. For the best results it needs full sun, lots of space and shelter from strong winds. Garden care: Avoid the temptation to remove the faded flower-heads in autumn as they provide interest in the winter garden. Where temperatures fall below -15°C (5°F) protect the crown of the plant with a dry winter, straw mulch.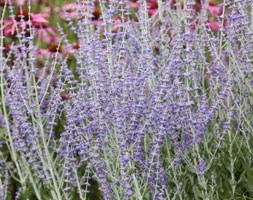 Perovskia 'Little Spire (PBR)' (Russian sage) £7.99
Position: full sun Soil: well-drained, poor to moderately fertile Rate of growth: average Flowering period: August and September Hardiness: fully hardy With its aromatic, silver-grey leaves and upright spikes of tiny, violet-blue flowers, Russian sage makes a wonderful companion to all kinds of late-summer ornamental grasses and perennials. This is one of the smaller varieties, so is the best choice if space is limited or you find the taller varieties get too floppy. This deciduous sub shrub makes a real impact planted en masse alongside a path, where the sage-like fragrance of its leaves can be appreciated, or try it alongside other silver-leaved plants, or in swathes in a sunny border. It can also cope with dry, chalky soils and coastal conditions. Garden care: In March cut back to the permanent framework of the shrub. After pruning apply a generous 5-7cm (2-3in) mulch of well-rotted garden compost or manure around the base of the plant.