by Sarah - January 15th, 2014.
Filed under:
Crocus
,
Price Reductions
.
Crocus reduced the price on these products today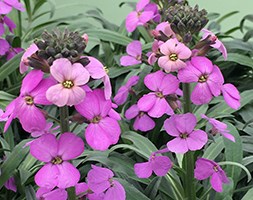 Erysimum 'Bowles's Mauve' (wallflower) was £6.99 now £5.99
Position: full sun Soil: poor to moderately-fertile, well-drained, neutral to alkaline soil Rate of growth: average to fast-growing Flowering period: February to July Hardiness: fully hardy This long-flowering, bushy, vigorous wallflower produces long spires of deep mauve flowers from late winter to summer above narrow, grey-green leaves. It is a short-lived plant, but makes a vivid display for months in a sunny border. Try it as part of a colour-themed scheme, or contrast it with vivid yellows. It also looks good in a rock garden or raised bed. Garden care: Provide cloche protection wh ere frosts are very severe or prolonged.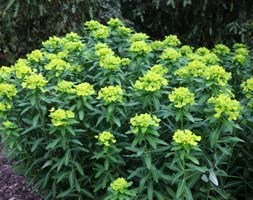 Euphorbia cornigera 'Goldener Turm' (spurge) was £6.99 now £5.99
Position: full sun or partial shade Soil: fertile, well-drained garden soil Rate of growth: fast growing Flowering period: May to August Flower colour: yellow-green Hardiness: fully hardy Handsome foliage with a creamy-green central vein, and lime-yellow flowerheads, which appear from late spring, provide a long period of interest. Place this herbaceous spurge next to rich plums for a dazzling contrast. Garden care: After flowering remove the faded flower-heads. When working with spurges always wear gloves since the milky sap is poisonous and a potential skin irritant.
Glass and wire cloche was £16.99 now £14.99
Perfect for the allotment or vegetable garden, these beautifully crafted glass cloches are covered with wire, which not only gives them an old-world charm, but makes them very easy to pick up and move about even with wet or slippery hands. Dimensions: Height – 25cm Diameter – 18cm
Fargesia murielae (umbrella bamboo) was £39.99 now £29.99
Position: full sun or partial shade Soil: humus-rich, moist, well-drained soil Rate of growth: average to fast growing Hardiness: fully hardy This medium-sized bamboo has thin, yellow-green arching canes and a mass of smal l, soft, mid-green leaves. Its arching habit and fairly speedy rate of growth m ake it an ideal choice for an informal hedge, and because it is also compact, it makes a lovely, exotic specimen or container plant for small gardens. It is al so tolerant of wind and full sun. Garden care: Do not allow to dry out while the plant is getting estab lished. Plant in a large container or surround the roots with a non-perishable barrier that restricts the plant's spread.