by John - January 17th, 2014.
Filed under:
Harrod Horticultural
,
New Products
.
Harrod Horticultural has these new items today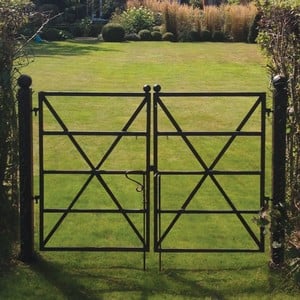 Estate Fence Gate – 'x' Brace Design £518.00
The X Brace Gate Is Made To Last, Using Fully Galvanised Steel, Powder Coated Black For A Long Lasting, Maintenance Free Finish And Comes Complete With A 10 Year Guarantee, the 2 Door Gate Has An X Brace Which Runs From Corner To Corner And Features 2 Doors, A Latch, Drop Bars And Drop Socket Tubes. The Stout 75mm Square Gate Posts Come Complete With A Decorative Ball Finial For A Sophisticated Finish And The Wdith Inside The Gate Posts Is 1.52m.x Brace Estate Fence Gate – Available As Stand Alone Gate (arc-223) And Estate Fence Fitting Gate (arc-224)can Be Combined With Our Estate Fencingmade From Galvanised Steel, Black Powder Coated For Maintenance Free Long Life.10 Year Guaranteewidth Inside Gate Posts Is 1.52mgate Posts Use 75mm Square Section Steel – Topped With A Decorative Ball Finial.discreet Long Lasting Fixings exclusive – Designed And Manufactured By Usself Assemblyarc Design Gate Is Also Available. made To Measure Sizes Available Upon Request – Email Our Made To Measure Team Or Call Us On 0845 218 2110 For A Special Price Quotation.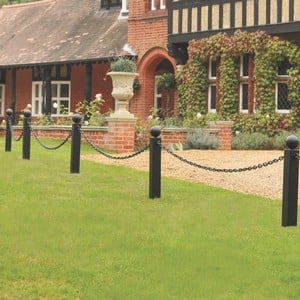 Driveway Chain Link Fencing £149.00
Designed And Manufactured By Us In The Uk, Our Driveway Chain Link Fencing Uses Substantial 75mm Square Section, Fully Galvanised Steel Fence Posts Linked By Premium Quality Matt Black Powder Coated Steel Chain. built To Last This Durable Fencing Is Perfect To Border Grass Areas And Verges Along Driveways Or Garden Paths And Tracks. Designed To Sit 2 Metres Apart The Chain Is Slightly Longer To Achieve A Pleasing Arc In The Chain.begin With A 2m (post Centre To Post Centre) Starter Kit (arc-220) Which Includes 2 Posts And Chain. Then Simply Add As Many 2m Single Extension Kits (arc-221) As You Need. The Extension Kits Include 1 Post And Chain. If You Want To Go Round A 90o Corner Then Select One Of The 90o Corner Fence Kits (arc-222) Which Includes A 90o Fence Post And Chain. The Image Above Shows This In More Detail.ideal For Protecting Grass Verges And Sectioning Areas10 Year Guaranteedesigned And Manufactured In The Uk By Usfence Posts Made From 75mm Square Section, Fully Galvanised Steelposts Black Matt Powder Coated For An Attractive Long Lasting Finish.all Posts Feature Decorative Ball Finialsposts Link With Premium Quality Steel Chain – Black Powder Coatedcentre To Centre Distance Of The Post Is Desigend To Be 2m – Chain Is Lsightly Longer To Achieve Arcposts Stand 0.59m Out Of The Ground With 0.4m Allowed For Ground Insertionadvised That Posts Are Concreted Into Positionstarter Kit Includes 2 Posts Chainextension Kit Includes 1 Post Chain90o Corner Fence Kits Include 1 Corner Post Chainif You Are Interested In Fixing The Fence Above Ground Or Looking For A Bespoke Fence Design Then Please Email Our Made To Meaure Team Or Call 0845 218 2110.
Stackable Apple Rack £22.95
This Stackable Space-saving Apple Rack Is Designed Specifically For Storing Apples For The Winter – Made From Pine Wood It Provides A Cool, Frost-free Environment To Keep Your Apples In Ideal Condition For Several Weeks.single Tier Size 15cm(6″) X 57cm(22″) X 57cm(22″)extra Value Offer Available – Purchase Four Apple Racks And Save 10image Shows 8 X Single Tier Apple Racks (or 2 X Extra Value 4 Tier Packs)