by Sarah - January 30th, 2014.
Filed under:
Crocus
,
Price Reductions
.
Reduced price on products today at Crocus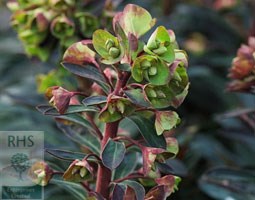 Euphorbia Blackbird ('Nothowlee') (PBR) (spurge) was £7.99 now £5.99
Position: full sun or partial shade Soil: well-drained Rate of Growth: average Flowering period: May to June Hardiness: fully hardy This small euphorbia has attractive deep maroon-purple foliage that grows in ros ettes along erect stems which contrast brilliantly with the bright lime-green fl owers that appear from March to May. A sport of the popular variety 'Redwing', it forms attractive mounds of evergreen foliage which colours best in full sun. I t looks good in winter containers with spring bulbs and winter pansies, or towar ds the front of a mixed border with yellow flowers or plants with bright green f oliage. Garden care: After flowering remove the faded flowerheads. When working with spurges always wear gloves since the milky sap is poisonous and a potential skin irritant.
Woodland nest box for smaller birds was £24.99 now £22.99
This woodland themed nest box not only looks great in the garden but it has also been designed in cooperation with ornithologists and bird experts. The woodland design mimics a natural hollow in both it's construction and appearance. It is made from natural birch which also creates a natural camouflage when hung high up in a tree making the bird box more protected against natural predators. This bird box is easy to install and also easy to clean with it's liftable roof. They are also made from FSC certified birch which gives it it's natural appearance. This nest box is suitable for the following birds: Great tit Willow tit Blue tit Coal tit Tree sparrow Measurements: Height: 17.5cm Entrance diameter: 4.5cm