by Sarah - February 2nd, 2014.
Filed under:
Garden Buildings Direct
,
New Products
.
Garden Buildings Direct just added these new lines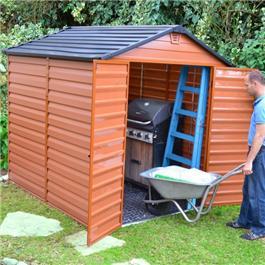 6 x 6 £315.49
Strong as steel . Palram skylight sheds are uniquely built from Polycarbonate panels reinforced with aluminum and galvanized steel frame components for high durability and rigidness.. Polycarbonate is a durable, virtually unbreakable polymer that makes it perfect for the high stress environment required by today s jet fighter canopies. These properties also make polycarbonate the perfect material for garden sheds as the high impact, UV and harsh weather resistant panels will assure durability and quality for many years to come.. In addition, polycarbonate panels are actually stronger than polypropylene or polyethylene panels in hail impact resistance and extreme temperatures. Skylight Let the sunshine in . A unique feature of the shed is Palram s unique polycarbonate Skylight. The innovative roof panels transmit natural light into the shed for maximum comfort and usability all day long without need for expensive and vulnerable open windows or unsafe electric lights. In addition, the Skylight roof has safe opaque external visibility for maximum privacy and it also prevents harmful UV rays from entering the shed and damaging your stored items from getting dull and deformed. . Maintenance free, free of worry . Plastic sheds are maintenance free and washable ensuring years of care free use. Unlike wooden or metal sheds that may be damaged from rust, rot, peel, color fading and excessive weather wear and tear Palram s polycarbonate panels requires zero attention from your side and expressed in low product life cycle cost since no painting or surface treatment are needed. . Our design, your comfort . Placing the client at the center of product development, we designed and developed the skylight shed with emphasis on the usability and everyday use aspects such as . . Included anti slip floor to keep your supplies dry and protected . Easy access ramp for wheelbarrows and lawnmowers . Wide double doors in 6 wide models for easy access . lockable latches for privacy and safety . Front and back air vents . Aluminum and galvanized steel reinforced frame components . . Before you re choosing garden shed it is important to pay attention to the specifications and features of the shed, benefits and downsides of the structure materials and to the sheds life cycle costs and maintenance. These are very important aspects in order to ensure quality, durability and safety of your shed for many years to come. .