by Sarah - February 8th, 2014.
Filed under:
Crocus
,
New Products
.
Crocus has these new products today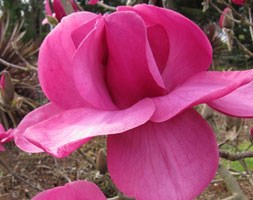 Magnolia Felix Jury ('Jurmag2') (PBR) (magnolia) £99.99
Bred in New Zealand by leading Magnolia breeders, Felix and Mark Jury, Magnolia Felix is stunning. This woody tree grows well in most climates, it performs best in the sun and enjoys protection from strong winds. In early Spring the reward is a mass of magnificent, 12 inch large, open-faced hot pink flowers. Magnolia Felix is an upright smaller tree growing to a height of 16 feet, making it suitable for smaller gardens or featured in larger landscape plantings.