by Sarah - February 26th, 2014.
Filed under:
Crocus
,
New Products
.
New products today at Crocus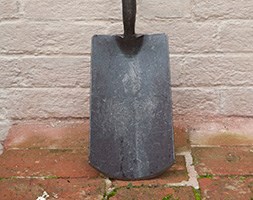 De Wit solid socket spade £69.99
This De Wit solid socket spade is forged from carbon steel and turned hardwood ash handles. Measurements: Width: 160cm Length: 250cm The Dutch are rightly regarded as makers of the finest gardening tools. De Wit have been around longer than anyone. They started in 1898 and the 4th generation of De Wits are now in charge of the business; one is a trained wood turner, the other trained as a blacksmith. De Wit forge their tools from carbon steel in the traditional way. Carbon steel is naturally tougher than stainless steel and is not prone to metal fatigue. De Wit also burnish their steel. This not only helps to protect it for longer but gives it a patina that blackens it – just like traditional English tools from the Edwardian era. All De Wit tools have turned hardwood handles of oiled Ash. Ash is not only very strong but resists shock better than woods like oak or beech, which is why it was traditionally used for Axe handles.