by Sarah - February 28th, 2014.
Filed under:
Crocus
,
Price Reductions
.
Crocus has cut the price of these lines
Astrantia major 'Ruby Wedding' (masterwort) was £9.99 now £7.99
Position: full sun or partial shade Soil: fertile, moist, preferably humus-rich soil Rate of Growth: average to fast Flowering period: June to August Hardiness: fully hardy This astrantia has stunning ruby-red pincushion flowers with a suggestion of white at the base of each petal. The leaves are pretty too; deeply lobed and mid green. This old cottage garden favourite has been enjoying a resurgence of interest in recent years, as it works equally well in contemporary style plantings. Use towards the front of a sunny, yet moist border, where the intense flower colour can be fully appreciated. Astrantias have been cultivated in Britain since the 16th century and have numerous common names, such as melancholy gentleman, Hattie's pincushion and the more well- known masterwort. Garden care: Astrantias do not like to dry out. Incorporate plenty of organic matter when planting and water well in dry weather especially newly established plants. Lift and divide large clumps in early spring and apply a generous 5-7 cm mulch of well-rotted manure or garden compost around the plant. Divided specimens may take some time to establish since they don't like having their roots disturbed.
Chaenomeles x superba 'Crimson and Gold' (flowering quince) was £12.99 now £9.99
Position: full sun or partial shade Soil: moderately fertile, well-drained soil Rate of growth: average Flowering period: March to May Hardiness: fully hardy Ornamental quinces bring a welcome flush of colour to the garden in spring, when their bare twigs are smothered in flowers before the glossy, dark green leaves appear. 'Crimson and Gold' has striking, cup-shaped, bright red flowers with conspicuous yellow centres from March to May, followed by aromatic, greenish-yellow fruit. This easy-to-grow, deciduous shrub is excellent for a partly shaded border with moderately fertile, well-drained soil and looks stunning trained against a wall. A popular compact variety, it's perfect for the smaller garden or where space is limited. The fruit can be eaten when cooked. Garden care: After flowering, prune side-shoots to five or six l eaves and remove crossing stems. Once established, remove excess growth in late spring or summer and cut back all side-shoots to two or three leaves.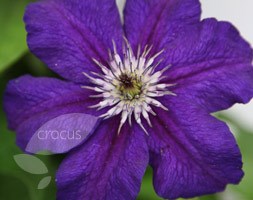 Clematis Happy Birthday ('Zohapbi') (PBR) (clematis (group 3)) was £17.99 now £15.99
Position: full sun or partial shade Soil: fertile, well-drained, neutral soil Rate of growth: fast-growing Flowering period: June to September Flower colour: deep purple becoming paler with age Hardiness: fully hardy From midsummer to autumn, a sucession of deep purple flowers emerge from silvery buds, gradually fading and taking on a softer, bluish flush as they mature. When both new and old flowers are present on the plant it creates an attractive two-tone effect, which adds greater interest to the overall effect. It looks wonderful scrambling over an obelisk or arch and as it has a relatively compact habit, it is well suited to growing in a large pot. Garden care: In early spring cut back the previous year's stems to a pair of strong buds about 15-20cm (6-8in) above ground-level and apply a slow-release balanced fertiliser and a mulch of well-rotted garden compost around the plant, avoiding the immediate crown.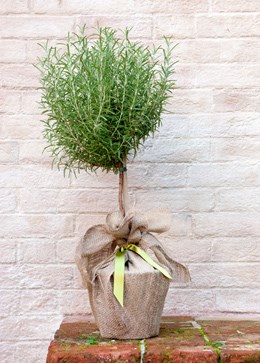 Rosmarinus officinalis 'mini stem standard' (rosemary mini standard) was £24.99 now £19.99
Shown with gift wrap suggestion. The ceramic pot is not included with the plant. see goes well with below for a link to the pot used. Gift wrap is available during the checkout as a option Position: full sun Soil: well-drained soil Rate of growth: average Flowering period: May to June Flower colour: purple-blue Hardiness: frost hardy (may need winter protection) This popular herb is always in demand, but this mini-standard looks great too! It can be used to flavour a whole host of yummy dishes, including lamb, pork and roast vegetables. An evergreen shrub, it will provide year-round interest, and will look super potted up and placed near the kitchen door. Garden care: To ensure a plentiful supply of young, succulent leaves for culinary use gather the leaves regularly and prune each spring.