by John - April 18th, 2014.
Filed under:
GreenFingers
,
Price Reductions
.
GreenFingers has cut the price of these items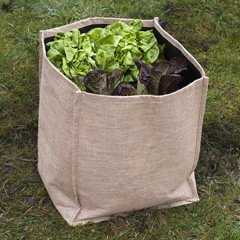 Greenfingers Salad & Vegetable Planter – Large was £2.49 now £1.99
This Greenfingers Large Salad and Vegetable Planter is ideal for growing your own varieties of salads and vegetables and holds approximately 75 litres of compost. It is perfect for small gardens patios and balconies or why not place it near your kitchen door so that each day you can benefit from freshly picked produce. Manufactured from laminated jute fabric to help retain moisture and heat it also features drainage holes with strong metal eyelets and firmly sewn support corners that will ensure your bamboo canes remain secure. All in all this is a durable planter with great growing potential which means a good harvest for you. Dimensions: W45 x D60 x H30cm For more Grow Your Own ideas or inspiration please click here to view our range.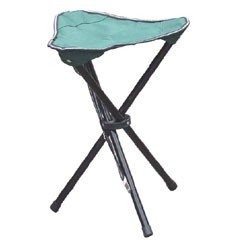 Foldaway Portable Seat was £4.99 now £2.49
Now you do not need to be left standing at any event with this Foldaway Portable Seat. This comfortable tripod folding seat is ideal to take with you for your outdoor activities such as picnics camping fishing or sports meetings. It is also great for when you want to potter in your garden and prune the odd bush. It features lightweight sturdy alloy legs with a durable heavyweight polyester fabric seat which is resilient and will not sag so you are provided with firm yet comfortable seating.It folds up really quickly and comes with an adjustable strap for easy carrying so you can take it virtually anywhere for a quick seat. Opened Dimensions: 28 x 28 x 42cmm highWeight capacity: 100kgFor more ideas please click here to view our Camping Department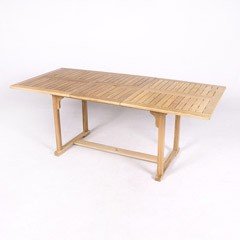 Greenfingers White Oak Extending Table was £217.49 now £189.99
This solidly constructed Greenfingers White Oak Extending Table features a quick and simple folding leaf mechanism which adds an extra 50cm length to the table (along with a hole for a parasol) to provide comfortable space for 8 settings. 147-197x90x75cm highSimple self assembly required though with two people it would be easier due to the weight of the tabletop. Please treat this furniture set upon receiving it. Click here for Oak Information. Requires Adobe Reader.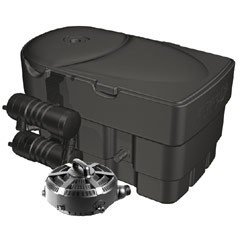 Hozelock 1567 Trinamic Plus External Filter 12500 was £374.99 now £349.99
This Hozelock 1567 Trinamic Plus 12500 External Filter is an advanced high-performance combination of pond pump Kaldnes K3 biological filter and a UVC that has been designed for densely stocked fish and koi ponds up to 12500 litres. It consists of the Trinamic Plus filter an Aquaforce 8000 pump and a Vorton UVC unit resulting in a dynamic pond cleansing system that not only cleans and purifies your pond water for healthy fish and plants but also has a waterfall. Manufacturer 3 year guaranteeTrinamic Plus FilterThe Trinamic Plus Filtercan be installed at the top of a waterfall feature by the side of a pond or up to 5m away from the edge of the pond and will support 70cm of fish per 1000 litres of pond water. It has a unique moving K3 bed that promotes natural selection of ultra-efficient Nitrosomonas bacteria as only the strongest fastest-acting micro-organisms survive the constant media collisions. This type of bacteria which breaks lethal ammonia down into nitrite thrives in an oxygenated dynamic environment. The recommended flow rate is from 4000 to 7000 lph and the higher flow rate is recommended for koi ponds but the maximum should not be exceeded.Aquaforce PumpThe Aquaforce 800 pump is a solids handling filter as well as a waterfall. Versatile and controllable this 95W Aquaforce can be used flat or on its side and the case has an integral carrying handle which makes it easy to lift into or out of the pond.It has a large cage surface area which reduces cage clogging and improves water purity. Pond water is drawn in through the cage grille which filters out coarse solids up to 6mm in size. Smaller particles can be eliminated by fitting the supplied clip-in fine mesh filter tray which reduces the inlet diameter down to 2mm and affords the best possible protection for pond wildlife such as small fish newts and frogs preventing them from accessing the pump. It also includes hosetail for 20-40mm connection sizes. Maximum flow: 7000 lphMaximum pumping height: 3.8mSolids handling range: 2-10mmWaterfall width: 0.63mHose diameter accepted: 25 32 and 40mmVorton UVCThe Vorton UVC increases UV efficiency by even exposure of the water to the UV light and eliminates the possibility of air locks. The single-ended UV lamp design means 30% more UV light is emitted than a double ended lamp of the same wattage. The quartz tube allows 87% of the UV rays to pass through it and penetrate the water where it can act on the algae. Careful product design ensures the UV lamp is kept within its optimum operating temperature range which means that it is always working at its most efficient. Overall Dimensions: 77.5 x 57 x 51.5cm high
Plus another 0 great reductions