by John - April 19th, 2014.
Filed under:
GreenFingers
,
New Products
.
GreenFingers just added these new products Henry the Hedgehog Boot Brush £16.99
Henry the Hedgehog Boot Brush makes an unusual but cute addition to your household! Manufactured from cast ironmaking it strong sturdy and durable it features really tough bristles to clean dirty boots and shoes and help keep any muck from being brought into the house. It makes a great housewarming gift too! Dimensions: W26 x D17 x H17cm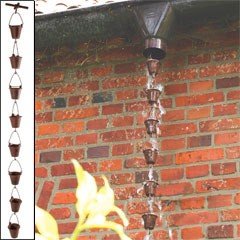 Rain Chain £21.99
Rain Chains are a beautiful alternative to traditional closed metal or plastic downpipes. They break the fall of the water guiding it downward onto pebbles a pot or stone basin and they sound great!Comes flat packed with some fiddly assembly required. Well worth the effort though as the effect of the rainwater cascading down the chain is beautiful. Comes complete with a cross-piece which sits into the guttering with a hook underneath to hang the chain from. Made from cast iron the buckets are 5.5cm in diameter at the top and the chain is 106cm long. Bear in mind that most drain pipes are over 2m long so you may want to order 2 if you want the feature to extend close to the ground.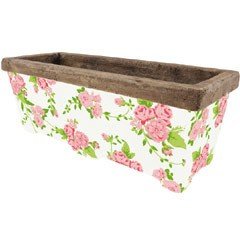 Rose Collection – Rectangle Planter £22.99
Looking for a traditional styled planter? This Rose Collection Rectangle planter is perfect for creating a stylish centrepiece to your patio garden or balcony. Just add a vibrant splash of colour – or why not position it to form a partition or boundary? It has an aged traditional country look in old washed ceramic and is sure to impress.Dimensions: 39 x 16 x 15cm high
Plus another 0 new products