by John - May 17th, 2014.
Filed under:
GreenFingers
,
New Products
.
New items today at GreenFingers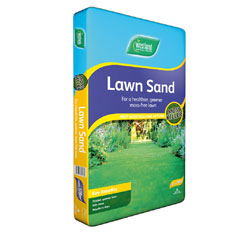 Westland Lawn Sand 20kg £9.99
To help control moss and create a healthier lawn use Westland Lawn Sand. The specially formulated granules kill moss and promote stronger healthier growth in your grass by combining 2 products that will help condition your lawn. The nitrogen based fertiliser helps to feed the grass while the ferrous sulphate is fast acting and deals with the moss killing it and turning it black.Use year round for the perfect greener healthier lawn.Coverage: 178m²Contents: 20kg Always read the label. and take care when handling fertilisersDo not apply on wet or damp grass or in frost or drought conditions. Contains Ferrous Sulphate.
Plus another 0 new products