by Sarah - May 31st, 2014.
Filed under:
Crocus
,
New Products
.
New items today at Crocus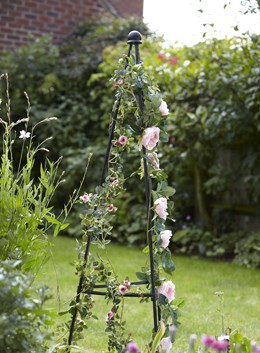 Quick and easy obelisk £12.99
This quick and easy obelisk is easy to assemble and is also easy to adjust according to the planting requirements as it comes complete with moving support brackets which will adjust the diameter of the base to the required size. Ideal for runner beans and other climbers. Made from durable plastic covered steel. Measurements: Small: 1.5m tall Medium: 2m tall Large: 2.2m tall
Gladiolus papilio 'Ruby' (gladioli) £5.99
Position: full sun Soil: moist but well drained soil Rate of growth: average Flowering period: July to September Flower colour: red Hardiness: frost hardy (may need protection in winter) A rare and beautiful form, which has a more refined charm than its blousier cousins. The large, ruby red flowers have darker markings on the inside and they appear in open sprays on the tall stems from midsummer. The leaves are shorter and sword shaped and have a greyish green colour. Listed by prominent designers in Gardens Illustrated magazine as one of the Top 100 plants, it is said to be one of the hardier gladiolus. It will spread by underground runners to form good-sized clumps over time. Garden care: Protect the crown with a generous layer of mulch in autumn, or grow in a pot and move them to an unheated greenhouse in winter.