by John - June 1st, 2014.
Filed under:
Harrod Horticultural
,
New Products
.
Harrod Horticultural has this new item today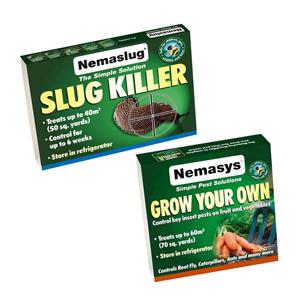 1 X Nemaslug And 2 X Grow Your Own Packs £14.90
To Give You Even Longer Lasting Natural Biological Control And Plant Protection, Weve Brought These Much Heralded Nematodes Together And As Each Pack Of Nemaslug Gives Up To 6 Weeks Of Slug-free Gardening – A Fortnight With Each Grow Your Own Pack – You Can Enjoy A Combined Total Of 10 Weeks Grace From The Pests Mentioned Above And Their Cronies! simply Mix The Nematodes In Both Grow Your Own And Nemaslug With Water In A Watering Can Or Hosepipe Feeder, Spray Your Garden, Sit Back And Let The Nematodes Do The Hard Work! Our Nemaslug And Grow Your Own Pest Control Packs Consist Of 1 Pack Of Small Nemaslug (covers 40sqm ) And 2 Packs Of Grow Your Own, Each Covering 60 Sqm.includes 1 Pack Of Nemaslugnemaslug Covers Up To 40sqm|ideal For Use In Small Gardensimpossible To Overdosebiological Control Of Slugs And To A Lesser Extent Snailssimply Mix With Water And Apply To Soil100% Organic And Completely Naturalfull Details On Our Nemaslug Product Pageand 2 Packs Of Grow Your Own provides A 60sqm Blanket Control Of The Most Common And Disruptive Soil-dwelling Pestssafe To Use Around Children And Pestsapply In The Same Fashion As Nemaslugeach Application Gives 2 Weeks Protectionfull Details Of Grow Your Own – Including A Downloadable Application Chart nematode Pest Control Deliverybeing A Live Product Nematodes Are Ordered Weekly Every Friday. The Nematodes Are Then Delivered On Wednesday Of The Following Week For Delivery By The End Of The Week.for Example An Order Placed On A Monday Would Be Ordered On Friday, Received The Following Wednesday For Delivery By The End Of That Week.