by Sarah - June 1st, 2014.
Filed under:
Garden Buildings Direct
,
Price Reductions
.
Reduced price on products today at Garden Buildings Direct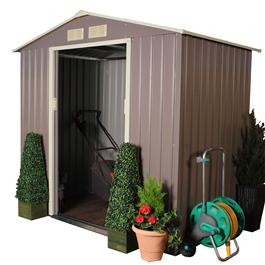 Archer 7 x 4 was £199.95 now £179.95
A Modern Approach to Garden Storage . If you re finding that your selection of garden tools is out-growing your current storage space, or you just feel like your garden needs a fresh injection of style then the BillyOh Archer range of metal sheds is exactly what you should be looking for. This range of sheds is the perfect outdoor storage option if you need some extra storage but don t have the garden space for a large wooden shed. This modern style metal shed will provide you with all the extra you need and bring a contemporary image to your garden too. . Easy Come, Easy Go . A BillyOh Archer shed makes storing and moving your possessions in and out of the shed quick and easy. Instead of a regular, vertically mounted hinged door, the BillyOh Archer features sliding doors that allow for easy access into and out of your shed without the door being in the way or swinging shut in a breeze. The raised middle of the roof leaves more headroom inside the shed, so you can comfortably stand up and move around inside the shed. The vented gables also add to the comfort of the shed, cutting out condensation and leaving the inside feeling fresh and airy. Stylish and Strong . This range of metal sheds is perfect if you enjoy the perfect combination of style and practicality. The metal used to make the Archer range is galvanised steel. Galvanisation is when the steel is coated in a layer of zinc, adding protection and strength to the metal. The strong properties of the zinc coated steel means that your shed will remain firm and solid for years to come. . Please Note The aluminium floor and accessories shown in the images are not included and is shown for photographical purposes only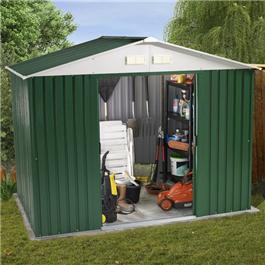 BillyOh Metal Sheds – Ballington 8 x 6 was £259.49 now £249.49
BillyOh Metal Sheds – Ballington 8 x 6. We believe that our Ballington sheds are not only the best looking steel sheds on the market but give more internal floor space when compared to our competitors. The deep roll-formed wall and roof panels provide unique strength unlike shallow formed clad sheds. Hot Dipped Galvanised Steel . This metal shed is made throughout from quality, hot-dipped-galvanised steel – unlike most, competitive models using electro-galvanised steel that cannot provide the rust protection only hot-dipped galvanised steel can provide. Additionally, all painted parts are powder coated for a lasting, maintenance-free finish . Base . Please ensure that when you build your concrete or flagstone base you insert a strong plastic membrane below the concrete or flagstones to prevent rising damp. Build your base no more than 30mm larger all round than the base measurements given below under technical information to allow rainwater discharging proud off your base at the sides of the Ballington. What is a Steel Foundation Kit and do I need one . It is a quick and easy way to create a suitable base for your metal shed after you have levelled your site and inserted a DPC Damp Proof Course below the foundation kit. It is manufactured using heavy-duty U channel framing, made from durable hot-dipped galvanized steel. The assembled foundation kit receives the shed base rails and flood out with concrete after the shed assembly is completed to give the perfect base. If the tongue and groove base option is selected, woodscrews and washers must be used we cannot supply to attach the shed to the timber floor. Woodscrews go through the shed's inner base rail holes with the washer for each screw securing adequate purchase between wood screw base rail timber floor. Please Note The product or model name may differ on the packaging from that advertised however this does not affect the intrinsic product . Manufactured by BillyOh.com.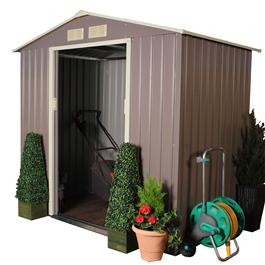 Archer 9 x 6 was £299.95 now £279.95
A Modern Approach to Garden Storage . If you re finding that your selection of garden tools is out-growing your current storage space, or you just feel like your garden needs a fresh injection of style then the BillyOh Archer range of metal sheds is exactly what you should be looking for. This range of sheds is the perfect outdoor storage option if you need some extra storage but don t have the garden space for a large wooden shed. This modern style metal shed will provide you with all the extra you need and bring a contemporary image to your garden too. . Easy Come, Easy Go . A BillyOh Archer shed makes storing and moving your possessions in and out of the shed quick and easy. Instead of a regular, vertically mounted hinged door, the BillyOh Archer features sliding doors that allow for easy access into and out of your shed without the door being in the way or swinging shut in a breeze. The raised middle of the roof leaves more headroom inside the shed, so you can comfortably stand up and move around inside the shed. The vented gables also add to the comfort of the shed, cutting out condensation and leaving the inside feeling fresh and airy. Stylish and Strong . This range of metal sheds is perfect if you enjoy the perfect combination of style and practicality. The metal used to make the Archer range is galvanised steel. Galvanisation is when the steel is coated in a layer of zinc, adding protection and strength to the metal. The strong properties of the zinc coated steel means that your shed will remain firm and solid for years to come. . Please Note The aluminium floor and accessories shown in the images are not included and is shown for photographical purposes only