by John - June 2nd, 2014.
Filed under:
GreenFingers
,
New Products
.
GreenFingers has these new lines today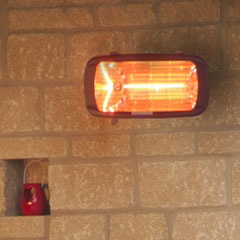 La Hacienda Heatmaster Royal Outdoor Electric Patio Heater – 1300W £89.99
Instant heat at the flick of a switch! This high quality extremely effective La Hacienda Heatmaster Royal Electric Patio Heater offers you great value for money. It uses infra-red energy to heat your seating area and can be easily clamped to a tripod or wall mounted to provide heat just where you need it and when you need it. Its operation is both silent and discreet providing warmth and light for you and your guests when dining al fresco of an evening. It is a great patio accessory that has been manufactured to high standards using a mixture of stainless steel and aluminium for optimum longevity and corrosion resistance. It is the ideal product for allowing you to enjoy the outdoors no matter the temperature outside! It is extremely efficient converting its energy into short-wave infra-red heat and the elements are built to withstand over 5000 hours which equates to over 20 years of normal use. It is well worth investing in for its durability alone!1300W infra-red bulbSilent and cleanSupplied with mounting bracket5m cableWall or tripod mountedIndoors or outdoorsTripod is not includedDimensions: W41.5 x D44.5 x H21cmFor more ideas or inspiration please click here to view our Garden Decorations Department.Caution! Please use this product responsibly and ensure that you follow the manufacturers safety advice and user instructions carefully. The heater will become very hot during use and extreme care should be taken if children or pets are present.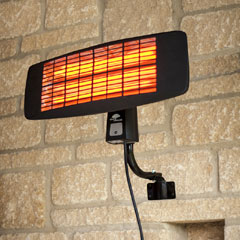 La Hacienda Wall Mounted Electric Patio Heater – 2000W £49.99
This La Hacienda Wall Mounted Patio Heater is modern practical and unobtrusive. It provides you with instant heat where and when you need it. With no fumes and no gas bottles this quality electric patio heater is quiet and clean so can also be used indoors in conservatories as well as outdoors on patios. It is a practical patio accessory that has been manufactured to high standards in an black painted finish. Coming with a fitting bracket and attachment means you can choose the optimum height for comfort for you and your guests. It is really economical to run and produces a gentle comfortable heat. It is the ideal product for allowing you to enjoy the outdoors no matter the temperature outside!The elements are built to withstand over 5000 hours which equates to over 20 years of normal use and is well worth investing in for its durability alone.2000W Halogen quartz bulbSilent and clean
Plus another 0 new products