by Sarah - June 6th, 2014.
Filed under:
Crocus
,
New Products
.
New items added today at Crocus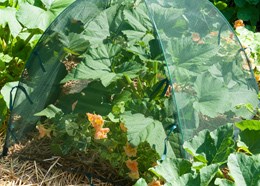 Pop up net cloche £15.99
These are a very simple, clever solutions for protecting vulnerable plants or a well earned harvest from insects and small mammals. The green mesh fits in well with the garden and the fibreglass rods are perfect for outdoor use. The cloches pop up ready to be placed over the plant – the galvanised pegs anchor the four corners keeping the base taught against the ground. They easily fold flat for storage in the winter. These cloches come in two sizes. Small cloche: Foot print – 50cm x 50cm Height – 52cm Large cloche: Foot print – 80cm x 80cm Height – 64cm
Darmera peltata (umbrella plant) £7.49
Position: full sun or partial shade Soil: moist or boggy soil Rate of growth: slow-growing Flowering period: April – June Flower colour: white to bright pink Hardiness: fully hardy One of the stars of The Chelsea Flower Show in 2008, where Tom Stuart-Smith used it extensively in his 'Best of Show' garden. This plant has big, circular leaves that pack a big architectural punch. The leaves can grow up to 60cm across and are held on stalks that can reach 1m tall and they help form very attractive dome- shaped plants. In autumn, before they die down, they will often turn bright shades of red. Rounded clusters of white to bright pink flowers appear above the foliage in late spring. Garden care: It prefers a reliably moist soil, but can slowly adapt to drier conditions. Although the plant is fully hardy, the flowers may be scorched by late frosts, so avoid planting in an east facing bed. Divide over-lar ge clumps in spring.