by Sarah - June 18th, 2014.
Filed under:
Crocus
,
New Products
.
New product at Crocus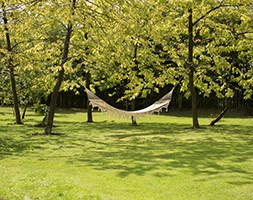 Woven string hammock £59.99
This ivory woven hammock will provide hours of relaxation in the garden. This attractive hammock provides a cosy and comfy space for you to sit back and enjoy all your hard work this summer. This hammock is completely handmade with each and every stitch of the crochet hammocks being made in El Salvador by artisans, who try to keep their culture alive by applying traditional production techniques. This woven hammock can be hung between two trees, posts or garden wall so long as the hardware and hanging strings are strong enough to hold the weight of the person using it. Please note the approx. capacity of the swing hammock is 120kg but please make sure secure and strong before use. How to hang the woven hammock: Between two trees or posts: tie a strong rope around the tree, make a knot, then reach the hammock's eye and make another knot. Ideally, supports, posts or trees should be 25-30cm further apart than the length of the hammock. Prior to using your hammock please check all knots are tight and secure and carefully sit in it to make sure it has been installed properly. Although these fabrics are mildew and fade resistant, avoid it's prolonged exposure to sunlight and rain. Over time, this would weaken the fabric and strings. When not in use, we suggest your bring the hammock indoors. Dry thoroughly before storage. Hand washable with mild soap. Please note: rope and fixings not included.