by John - June 25th, 2014.
Filed under:
GreenFingers
,
New Products
.
GreenFingers just added these new items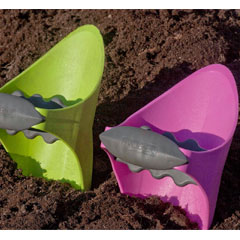 Chaselink Handigger Garden Tool £7.99
This Chaselink Handigger Garden Tool is the next stage of evolution in hand diggers for the garden. Handigger is an ergonomic mini-shovel especially designed for people with osteoarthritis and rheumatic pain.Made from tough robust plastic this ergonomic spade saves your wrists from any added pressure and it has been designed to be the only multi tool that you will need in the garden.Its many uses include but are not limited to scooping out or moving compost from the bag to the flower bed levelling out soil or being used as a planting tool in the garden or pots.The handle has a soft feel ridged section for your fingers to get a good grip on and the whole unit itself is a styling masterpiece that will grace any modern garden.Ergonomic handleMany uses 2 differently shaped bladesAdditional uses include using the tool as a scoop for horse feed or salt spreading in winter and being plastic there is no fear of your new garden tool going rusty.
Plus another 0 new products