by John - July 3rd, 2014.
Filed under:
GreenFingers
,
New Products
.
GreenFingers just added loads of new items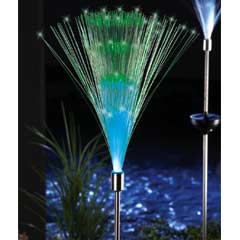 Greenfingers Solar Optic Fibre Stake Set of 2 £6.99
These stainless steel Greenfingers Solar Optic Fibre Stakes are a fabulous way to brighten up your garden patio or balcony at night and ideal for adding a sparkle to outdoor parties or gatherings. Beautiful during the day and scintillating at night they are colourful and stylish and make a superb addition to your garden. When dusk falls the stunning Solar Optic Fibre Stake really comes into its own – watch it change colours from blue to green yellow and red. It makes a brilliant focal point and a lovely feature to welcome your visitors. At such a great price why not get more to really enhance your outdoors. Outdoor lighting powered by the sun is the environmentally friendly and cost efficient way to light up your garden. Simply position in a sunny spot to charge the internal battery during daylight hours.CE & RoHS approvedEasy to install no wiringSolar panel on each stake Rechargeable battery included 1 x AA 1.2v 600MAHStake Dimensions: W9.2 x D9.2 x H95cm For more inspiration for your outdoors. Please click here to view our Garden Decorations Department.
Plus another 37 new products