by Sarah - July 12th, 2014.
Filed under:
Crocus
,
New Products
.
Crocus just added these new products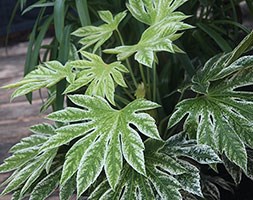 Fatsia japonica 'Spider's Web' (Japanese aralia) £19.99
Position: full sun or partial shade Soil: moist, well-drained soil Rate of growth: average Flowering period: September to October Hardiness: frost hardy (needs winter protection in cold areas) . Garden care: Prune lightly in mid to late spring, trimming shoots that spoil the symmetry. Protect plants from cold, drying winds.
Hemerocallis 'Daring Deception' (daylily Daring Deception) £5.99
Position: full sun to partial shade Soil: fertile, moist, well-drained soil Rate of growth: average Flowering period: summer Hardiness: fully hardy An excellent example and one that has been a talking point amongst daylily growers. They describe it as a 'fancy face' daylily with large blooms up to 13cm that are ruffled creamy pink with a dark purple edge and eye. The slightly fragrant flowers appear from early to midsummer and is a consistant rebloomer. Also semi-evergreen. This variety is also a super bloomer and can have up to 23 flowers on a stem when mature. Garden care: The Greek term 'hemerocallis' means 'beautiful for a day', and daylilies need regular deadheading to prolong flowering and prevent their unsightly deadheads from dominating the scene. Each stem carries several flowers, so snap off each flower as it fades. When the stem has finished flow ering, cut it down to the ground. After the plant has finished flowering altoge ther, pull out the dead leaves. When the foliage is looking tatty, cut it down to the ground and fresh new growth will appear. Lift and divide every three years in spring to keep the rhizomes vigorous and apply a generous 5-7cm (2-3in) mulch of well-rotted garden compost or manure around the base of the plant. Water frequently from spring until the buds appear.
Heliotropium arborescens 'Princess Marina' (cherry pie) £5.99
Position: full sun Soil: any fertile, moist but well-drained soil Rate of growth: average Flowering period: June to August Flower colour: violet-blue Hardiness: half hardy annual Clusters of sweetly-scented, deep violet-blue flowers from June to August and attractively wrinkled, dark green leaves. This compact heliotrope is ideal for a windowbox or patio container in a sunny, protected site. One of this plant's common names, cherry pie, refers to its unusual scent, which is reminiscent of freshly baked cherry pie! Garden care: Feed regularly with a high potash fertiliser, such as Tomorite, throughout the summer