by Sarah - July 20th, 2014.
Filed under:
Crocus
,
New Products
.
Crocus just added these new items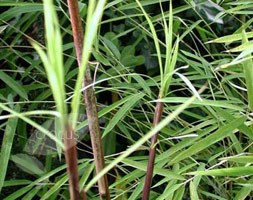 Borinda fungosa (chocolate bamboo) £39.99
Position: full sun or partial shade Soil: humus-rich, moist, well-drained soil Rate of growth: fast Leaves: lime to mid-green Canes: green, turning reddish in sunnier spots Hardiness: fully hardy New canes emerge in early summer, upright at first, but becoming more arching under the weight of the unfurling, light to mid-green leaves. When grown in sunnier spots, the canes will slowly turn shades of rich chocoalte-red, thus creating a wonderful contrast to the foliage. Formerly listed as a Fargesia, it is a larger and more vigorous form and has been reclassified. It is still very rare here in the UK, so it should appeal to aficionados and plant collectors. Garden care: Do not allow to dry out while the plant is getting established. Protect from cold, drying winds.