by Sarah - August 8th, 2014.
Filed under:
Garden Buildings Direct
,
New Products
.
Garden Buildings Direct just added these new lines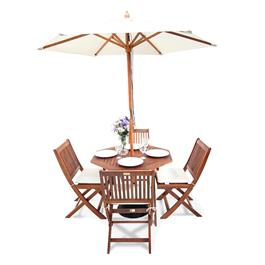 Folding Chair Set £129.95
The Ideal Garden Set for Outdoor Dining . Being able to relax outside under the sun with your nearest and dearest is one of the best things about summer and the warmer weather. Whether you enjoy soaking up the sun, reading a good book, or dining al fresco, make sure you ve got everything you need to be able to make the most of your garden. The BillyOh 1m Octagonal 4 Seater Wooden Garden Set is the ideal solution for you if you re the kind of person that loves to be outside relaxing with friends and family. Do More with Your Furniture . This 4 seater wooden garden set gives you the ability to enjoy your garden more often in comfort and style. The set comes with 4 folding chairs as standard, which are comfortable and look great with the matching table. We also offer a reclining chair option, these chairs again match the table, making the whole set look great, enhancing your overall garden appearance. The reclining chairs give you the option of 5 seating positions, so you can easily find your most comfortable angle. A Classy Furniture Image . This BillyOh wooden garden furniture set is made from richly toned eucalyptus wood which gives a beautiful finish to the set and ensures that the table and chairs will look great in your outdoor space. Featuring thin slats, this garden set beams with that traditional, classic garden furniture appearance which is a timeless and well-loved look for outdoor furniture. Eucalyptus is also lightweight, so you can easily move and reposition the set and find the perfect spot in your garden.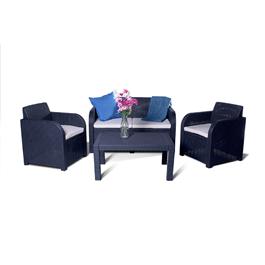 Carolina Lounge Set £219.95
Anthracite Carolina Lounge Set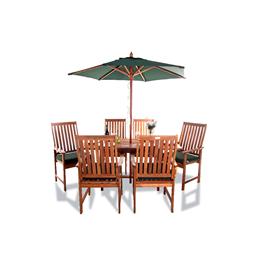 Reclining Chair Set £319.95
Share an Outdoor Meal with Friends and Family . If you re like us and you love inviting your friends and family over for an al fresco meal, some drinks or a barbecue, you ll love the BillyOh Windsor 2m extending 6 seater set. If you find that sometimes your garden furniture isn t big enough when you want to host a small party or invite your family over, but you don t want to buy a bigger table that won t be fully utilised, then this BillyOh Windsor set is the perfect solution for you. Strong, long lasting Material . If you re worried about keeping your garden set outside, then don t be. The set is made entirely out of acacia, which is a light-toned wood that gives a lovely, natural finish to the set and will look great in any garden setting. Acacia is a hardwood very strong and resistant, which is what makes it so well suited to being used outdoors, as it will stay in great condition in all weathers. So you can enjoy your set with the knowledge that it will stand the test of time. Traditional Style . The table is styled featuring wooden slats that enhance the image of this traditional looking set and also add stability and strength to the piece. The set comes with 6 chairs, so you ll have enough seats for your guests if you re having a small get-together or family meal. The chairs also feature thin slats, complementing the table perfectly and finishing the set off nicely. .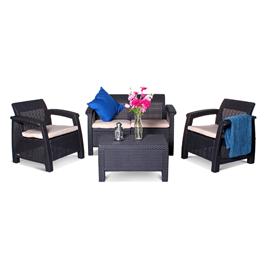 Anthracite Corfu Furniture Set £299.95
Keter Corfu Rattan Garden Furniture Set Anthracite