by John - August 16th, 2014.
Filed under:
GreenFingers
,
Price Reductions
.
GreenFingers has cut the price of these products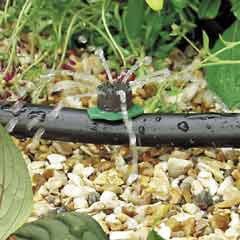 Hozelock 2787 Adjustable Mini Sprinkler – 4mm/13mm was £8.99 now £6.99
Ideal for use amongst a group of small plants and at the roots of larger plants this Hozelock Adjustable Mini Sprinkler can also be used upside down above hanging baskets. Made from tough UV stable plastic you can control the rate of water flow from 0 to 40 lph with a twist of the cap. Fits 4mm and 13mm hose pipesThe flow rate is based on 1.5 bar pressureCan be dismantled for cleaning or descalingSecure with a stakeArea coverage: 30cmPack of tenPlease note: ensure that your water pressure is reduced to 20PSI (1.5 bar) to ensure that your micro irrigation system is not over pressurised and that performance is optimised.
Plus another 0 great reductions