by John - September 25th, 2014.
Filed under:
Harrod Horticultural
,
New Products
.
New products today at Harrod Horticultural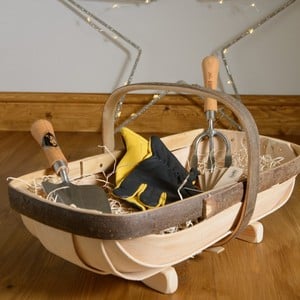 Mens Sussex Trug Gift Set £149.00
The Mens Sussex Trug Gift Set Includes The Luxurious Gold Leaf Dry Touch Gardening Gloves, Two Hand Tools That You Really Couldnt Be Without, A Hand Trowel And Hand Fork From The Renouned Sneeboer Range And To Complete The Collection A Set Of Large Wooden Plant Labels.the Sussex Trugs Have Been Hand Crafted Using The Same Methods For Over 200 Years And Use The Finest Materials To Create A Harvesting Trug That Is Not Only Practical But Looks Beautiful Too. The Cricket Bat Willow Basket Fits Neatly Into The Sturdy Chestnut Frame And Handle And Is All Secured By Strong Steel Fixings. the Luxurious Gold Leaf Dry Touch Gardening Gloves Are Soft, Supple And Extremely Comfortable To Wear And Offer A High Level Of Dexerity And Not Only That – The Leather Has Been Treated To Offer Resistance To Water Too.sneeboer Hand Trowel – A Tried And Trusted Sneeboer Combination Of Hand Forged Stainless Steel Head And Rock Solid Cherrywood Handle Ensures This Hand Trowel Will Carry Out Out Its Gardening Duties For Decades And Is A Gift Any Gardener Would Love To Receive .the Sneeboer Hand Fork Is One Of Those Rare Tools That Youll Never Be Able To Manage Without Once Youve Used One – The Three High Quality Steel Tines Are Tough Enough To Dig And Cultivate Soils Of All Types And Conditions.a Pack Of 5 Beautiful Burgon And Ball Fsc Hardwood Large Plant Labels Each Measuring A Hard-to-miss 20cm X 2.5cm Complete The Sussex Trug Gift Selection. You Can Write On Them In Dark Pencil And Reuse Year After Year, Just Lightly Sandpaper To Re-use.over 9 Saving Compared To Buying These Items Individually!