by Sarah - December 28th, 2014.
Filed under:
Crocus
,
New Products
.
New items today at Crocus
Paeonia lactiflora 'Karl Rosenfield' (paeony / peony) £5.99
Position: full sun or partial shade Soil: fertile, moisture-retentive yet well-drained Rate of growth: average Flowering period: June to July Hardiness: fully hardy Prized for their blowsy, glamorous blooms and glossy, deeply cut foliage, peonies are held in deep affection by many gardeners, despite their shortish flowering season and vulnerability to peony wilt in damp weather. It's easy to see why. From the promise of early spring, when their red, mottled shoots push through bare earth and the handsome foliage unfurls from spherical red buds, to early summer, when the huge flowers burst open, peonies exert a fascination that few can resist. 'Karl Rosenfield' has fragrant double flowers of startling magenta, from early to mid summer among deeply cut mid green leaves. The reddish-bronze foliage of this striking peony provides interest from early spring and after the plant has flowered. Garden care: Deadhead after flowering. In early spring apply a top dressing of a balanced, slow release fertiliser around the base of the plant and mulch with well-rotted compost or manure. If the plant shows signs of collapse or the leaves become spotty, this may be a symptom of peony botrytis. Remove affected leaves immediately. In the autumn, cut off all the foliage and dispose of it to prevent reinfection the following spring.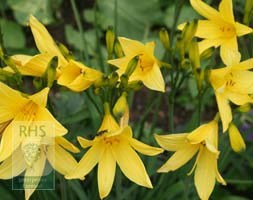 Hemerocallis lilioasphodelus (daylily) £4.99
Position: full sun Soil: fertile, moist, well-drained soil Rate of growth: average Flowering period: June Hardiness: fully hardy Star-shaped lemon-yellow flowers that have a good, strong scent, appear over a long period from early summer. A colourful and undemanding perennial that is ideal for a cottage garden, they will produce more flowers in a sunny spot. Garden care: The Greek term 'hemerocallis' means 'beautiful for a day', and daylilies need regular deadheading to prolong flowering and prevent their unsightly deadheads from dominating the scene. Each stem carries several flowers, so snap off each flower as it fades. When the stem has finished flowering, cut it down to the ground. After the plant has finished flowering altogether, pull out the dead leaves. When the foliage is looking tatty, cut it down to the ground and fresh new growth will appear. Lift and divide every three years in spring to keep the rhizomes vigorous and apply a generous 5-7cm (2-3in) mulch of well-rotted garden compost or manure around the base of the plant. Water frequently from spring until the buds appear.
Aquilegia vulgaris var. 'Ruby Port' (granny's bonnet) £2.99
Position: full sun or partial shade Soil: fertile, moist, well-drained soil Rate of growth: average to fast-growing Flowering period: May to June Hardiness: fully hardy A popular plant among garden designers, this lovely grannys bonnet has beautiful, fully double, spur-less burgundy flowers in late spring above ferny green leaves. The rich, deep red flowers look particularly lovely with fountainous grasses or with traditional cottage garden flowers. This plant is happiest in soil that retains moisture over the summer. It is quite short-lived, but self-seeds freely, though it rarely becomes a nuisance. Garden care: In autumn, surface-sow on moist compost in small pots or seed trays and keep them in a greenhouse or cold frame at 15 to 20C. Germination can be slow (up to 3 months) but seedlings should be thinned out as they grow on and over-wintered under glass before planting out after hardening off in spring. Alternatively, spring sowing can be undertaken as before, often without the need for heat. Sow: March – June or September – October Flowering: May – June Approximate quantity: 20 seeds