by Sarah - January 2nd, 2015.
Filed under:
Crocus
,
New Products
.
Crocus has these new products today
Pennisetum setaceum 'Rubrum' (fountain grass) £8.99
Position: full sun Soil: light, moderately fertile, well-drained soil Rate of growth: average Flowering period: July to September Flower colour: dark purple Other features: self-seeds freely; the flowers are useful for fresh or dried flower arrangements Hardiness: frost hardy (will need winter protection) Deep red to burgundy foliage with small, bristly red-purple flower spikes from July to September. This gorgeous ornamental grass looks great planted in a large clump where the flower spikes swaying in the breeze are a real eye catcher. For best results plant in a sunny spot in light moderately fertile, well-drained soil and shelter from extreme winter cold. Its highly recommended that this plant is bought in to a frost free place in winter. It has been awarded the prestigeous Award of Garden merit by the Royal Horticultural Society. Garden care: To halt the spread of the plant remove any unwanted self-sown seedlings as part of routine spring border maintenance. Deciduous in colder areas, it will need protection from winter cold and wet.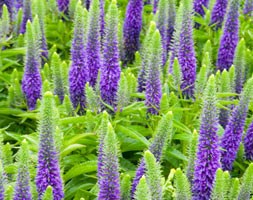 Veronica spicata Royal Candles ('Glory') (PBR) (speedwell) £5.99
Position:full sun or partial shade Soil: moderately fertile, moist, well-drained soil Rate of growth: average Flowering period: June to August Flower colour:deep blue-purple Hardiness: fully hardy Dense, slender spires of star-shaped, deep blue-purple flowers from June to August above hairy, toothed green leaves. This marvellous speedwell is guaranteed to create an impact at the front of a mixed or herbaceous border. To thrive it requires a well-drained soil as plants that become water logged over winter are unlikely to survive. Garden care: Remove faded flower-stems in autumn. Apply a generous 5-7cm mulch of well-rotted garden compost or manure around the base of the plant in spring.