by John - January 2nd, 2015.
Filed under:
Harrod Horticultural
,
New Products
.
New item today at Harrod Horticultural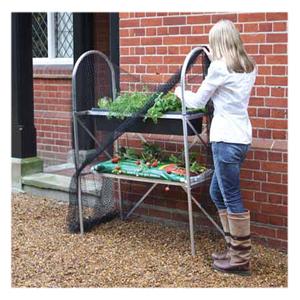 2 Tier Growbag & Trough Frame £49.95
Our 2 Tier Growbag Trough Frame Combines Vegetable Growing At A Back-saving Height Whilst Making Use Of Every Little Bit Of Spare Space On The Patio, In The Courtyard Or Simply By The Back Door.weve Put Our Knowledge Of Gardening And Manufacturing Expertise Together To Come Up With This Ultra-rigid, Corrosion-resistant Aluminium Frame With Patio Growing In Mind And Its Especially Suited To Growing Strawberries, Vegetables Or Herbs.the Raised Growing Shelves Elevate Your Crop From The Reach Of Soil-borne Diseases, Slugs, Mice And Other Ground-based Pests, And As Its Supplied With Anti Bird Netting And Ground Pegs, You Can Be Reassured That Any Aerial Threat Is Thwarted Too – Meaning Your Produce Stands A Very Good Chance Of Making It To The Table. Position Next To A Sunny Wall To Give Your Plants Shelter And Allow Them To Flourish In The Heat Stored And Generated By The Brickwork.frame Measures 147cm/410 H X 50cm/18 D X 111cm/38 Wshelf Heights: 100cm/33 50cm/18frame Available Separately Or In Various Trough/growbag Optionscomplete With Anti-bird Netting And Ground Pegstroughs Measure 100cm X 21cm X 18cm Hstrong Aluminium Frame To Carry Weight Of Full Troughs And Resist Rustingsimple To Assemble And Supplied With Comprehensive Instructionsthis Product Is Supplied As A Kit For Self Assembly.