by Sarah - January 10th, 2015.
Filed under:
Crocus
,
Price Reductions
.
Crocus has cut the price of these lines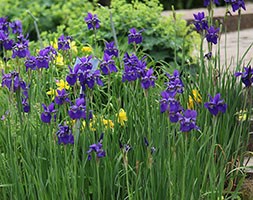 Iris 'Caesar's Brother' (Siberian iris) was £6.99 now £5.99
Position: full sun or partial shade Soil: well-drained, moderately fertile soil Rate of growth: average Flowering period: June and July Hardiness: fully hardy Vibrant, violet-blue flowers with upright standards and a purple-veined, creamy-white base to each fall, appear from early to midsummer just above the slender, strap-shaped foliage. Wonderful when mixed with pale blues, violets and rich plum tones. Garden care: Plant in soil that has been improved with well-rotted manure or garden compost and do not allow to dry out, particularly as the plant is getting established. If planted in a container, it will need dividing and repotting every couple of years in spring.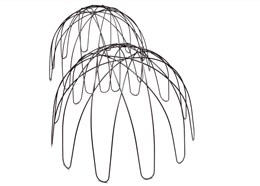 Dome plant support – bronze was £24.99 now £19.99
These come in two sizes. They are a great idea for protecting young or established plants in your borders from being trampled on. The plants are able to grow up through the wire which will act as a plant support for mound forming perennials. You can group some of the domes at the front of the border to create a barrier against larger mammals such deer, dogs and foxes. The domes are soon covered by foliage and will be hidden, becoming a subtle detail in the garden. Produced from coated steel rod. Measurements: Small: Height 26-28cm, Diameter 46-48cm Large: Height 41cm, Diameter 63.6cm
Dome plant support – green was £21.99 now £19.99
These come in two sizes. They are a great idea for protecting young or established plants in your borders from being trampled on. The plants are able to grow up through the wire which will act as a plant support for mound forming perennials. You can group some of the domes at the front of the border to create a barrier against larger mammals such deer, dogs and foxes. The domes are soon covered by foliage and will be hidden, becoming a subtle detail in the garden. Produced from coated steel rod. Measurements: Small: Height 26-28cm, Diameter 46-48cm Large: Height 41cm, Diameter 63.6cm
Loire obelisk was £29.99 now £24.99
Why not add some style to your garden with this attractive Loire obelisk. A decorative iron trellis with a scroll design has a white-grey wash finish with spiked feet for secure fixing. Measures at 1.6m tall and provides support all climbing plants. Measures: Height: 1.6m Base diameter: 30cm