by John - January 10th, 2015.
Filed under:
GreenFingers
,
Price Reductions
.
GreenFingers reduced the price on these products today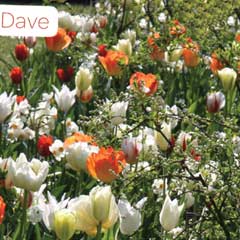 Javado Folklore Dave – 60 Mixed Bulbs was £6.49 now £3.25
Specially imported from Holland Javado Folklore Dave is a spectacular mix of tulips narcissi and glory of the snow flowers for your spring garden beds and borders. These gorgeous flowers will make a great gift for any gardener and will produce a glorious show for 6-8 weeks.Collection comprises: 3 x Tulipa Spring Green: stunning silky cream petals that are adorned with a gentle spring green stripe. Each perfectly formed cup-shaped bloom stands on a matching yellow-green stem with broad lance-shaped leaves 7 x Tulipa Daydream: wonderful fragrant sunny yellow blossoms that age to luminous apricot orange and light up your garden5 x Tulipa Mount Tacoma: robust white tulip with double flowers on strong stems and a lovely sweet fragrance 5 x Tulipa Carnaval de Rio: flamboyant ice white flowers with flashy vivid red streaks 5 x Narcissus Triandrus Thalia: a multi-headed trumpet daffodil that emerges from its bud a greeny-white and opens to reveal a delightful elegant pure white flower 3 x Narcissus Geranium: highly scented white daffodil with a coral centre32 x Chionodoxa luc. Alba: stunning pure white form of the normally blue Chionodoxa which bears up to 10 flowers with tiny golden centres on each of its stems Quantity: 60 bulbs in a gift bagThese bulbs should be planted preferably before the end of November although most will be fine if planted up to the end of December. They require a sustained dormant period of cold temperatures to stimulate root development. If you have to store them for a few days keep them dry and cool – between 10 and 15 degrees centigrade.
Plus another 0 great reductions