by Sarah - January 13th, 2015.
Filed under:
Crocus
,
Price Reductions
.
Reduced items at Crocus
cress 'Curled' (curled cress) was £0.99 now £0.89
Position: a sunny windowsill inside, or partial shade outdoors Soil: moist You can have super-fast crops even if you haven't got a garden with this incredibly easy-to-grow salad ingredient. The crisp, crunchy shoots have a tang that adds a lovely texture and flavour to salads or sprinkled in sandwiches, and what's more you'll have a crop within little more than a week from your kitchen windowsill. Growing Instructions: You don't even need any compost: simply fold a sheet of kitchen towel into the bottom of a small punnet or takeaway tray and damp it down, then sprinkle seed over the top. Place on the windowsill and keep damp at all times. Once seedlings produce green leaves and are about 3cm high, snip off near the base as required. Alternatively, children will love to fill half an eggshell with dampened cotton wool and sow the seeds into the top to create cress heads, complete with green 'hair', which they can then paint the face on. Sow: All year round Harvest: A week to 10 days after sowing Approximate quantity: 3500 seeds.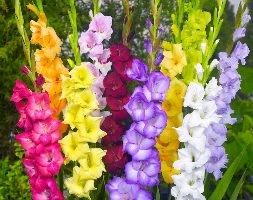 Gladiolus mixed colours (gladioli bulbs) was £5.99 now £4.99
Position: full sun to partial shade Soil: fertile, well-drained Rate of growth: average Flowering period: July to September Other Features: excellent as cut flowers Hardiness: half hardy Bulb Size: 8-10cm This is a mixture of the best large flowering gladioli, ranging in colour from white through to startling red. The flowers are produced from July to September and make excellent cut-flowers. They look stunning planted in groups among shrubs and large herbaceous flowers in a border. Garden care: Plant corms 10-16cm (4-6in) deep in spring, on a bed of sharp sand to aid drainage. In frost-prone areas, lift them when the leaves turn yellow-brown, dip the corms in fungicide and store in a dry, frost-free place over winter.