by John - January 21st, 2015.
Filed under:
GreenFingers
,
New Products
.
New items added today at GreenFingers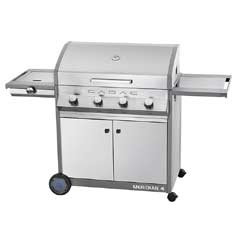 Cadac Meridian Stainless Steel 4 Burner Gas BBQ with Side Burner £412.50
A great reason to have al fresco social gatherings with family and friends and get your BBQ fever started! This super-stylish upmarket Cadac Meridian Stainless Steel 4 Burner Gas BBQ is an impressive quality outdoor kitchen for flavoursome food that is well worth investing in for its style and durability alone. This 4 burner gas BBQ comes supplied with a fold-away side table and a fold-away side burner that allows you to prepare sauces and comes with a lid so it can also be used as an extra surface. The double-skinned stainless steel dome lid stops precious heat from escaping ensuring your food is cooked to perfection and you can check the temperature of the grill due to a surface mounted thermometer. The Meridian 4 Burner Gas BBQ features: 4 Grade 304 stainless steel burners: which are long lasting and easy to clean. Automatic piezo ignitions: to allow you to prepare a feast quickly and conveniently. A fixed food warming rack: ideal for garlic bread vegetables or for keeping cooked meat warm a little longer. U-shaped cooking grids: trap the heat to ensure quick and even heat-up. Folding hood design: means that it can sit flush against a wall to save space and still be operated. 2 non-crack rubberised wheels & 2 lockable castor wheels: for easy portability. Storage cabinets: that have steel doors with a magnetic push release and a storage area for food and BBQ tools. Best of all is the easy wipe and easy clean system! The smooth-walled porcelain enamelled construction of the fire box and drainage channels prevent unhygienic unsightly and dirty interiors of BBQs. Moreover when the inside of the BBQ is wiped there are no sharp edges that may cut hands. 5 year warrantyWill run on both Butane and Propane Supplied with hose and standard clip on Propane regulatorGas cylinder not included Cadac have a well established reputation as traditional and reliable manufacturers of outdoor grills.Closed dimensions W162.7 x D63.5 x H110.3cm Average Operating Pressure: 28-30mBar /37mBarCooking Area: 3920cm Side Burner: 21.5cm diameterTotal Heat Output: 15.4kW Total Gas Consumption: 1100grams/h Weight: 68kgPlease click here for some Cadac BBQ recipes.
Plus another 0 new products