by Sarah - January 25th, 2015.
Filed under:
Crocus
,
Price Reductions
.
Price cut on this item at Crocus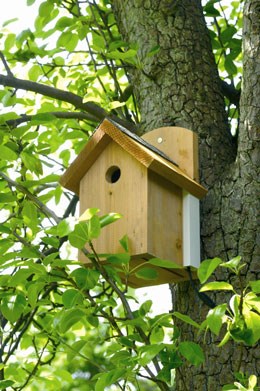 Camera nest box was £64.99 now £59.99
Many people like to welcome birds into their garden, but what happens inside the nest usually remains a mystery. This fsc timber nest box has a 32mm diameter entrance, and is fitted will a small camera, allowing you to watch them build their nest and lay their eggs. Later you can enjoy the thrill of seeing the chicks hatch and grow – all from the comfort of your living room. The images are a high quality black and white and will be relayed straight to your television. The camera is equipped with sound, has infa-red vision and an infra-red light source. It is easy to set up with a 'plug and play' specification, and is supplied with a 20m cable and all the necessary connectors. If you would like to add a bit of colour to your garden, you could also paint your nest box as we have done! (please see third image).