by John - January 28th, 2015.
Filed under:
GreenFingers
,
New Products
.
New items added today at GreenFingers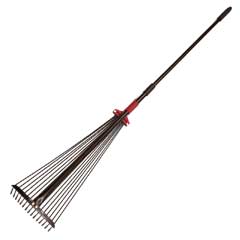 Crest Expanding Leaf Rake £6.99
Wonderfully versatile the Crest Expanding Leaf Rake not only has a telescopic handle for ease of use but also an adjustable width head. It can even be turned into a hand tool using the quick release handle at its base! This makes it a fabulous all-purpose rake that allows you rake up grass clippings leaves and debris from large open spaces as well as from hard to reach places and flower beds.Manufactured from steel with PVC this durable rake has a 30 inch super strong ergonomic curved rake head for maximum performance and the 15 tines ensure leaves are cleared with ease. Crest Garden pride themselves on providing products which offer great value for money but are not compromised on quality. This is a great value garden rake at a great price!Compact storage when not in useStandard Dimensions: L80 x W20 x D4cmAdjusts to length: 160cmAdjusts to width: 59cm To view all special offers in our garden tool department please click here.
Plus another 0 new products