by John - February 20th, 2015.
Filed under:
GreenFingers
,
New Products
.
GreenFingers just added these new lines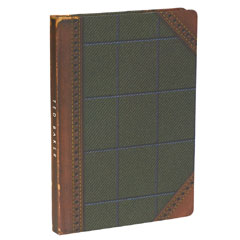 Ted Baker Men's A5 Tweed Notebook £9.71
Every man needs a journal to keep the details of their latest exploits recorded and with this Ted Baker Men's A5 Tweed Notebook they have the ideal item.This A5 notebook is pocket-size with 196 lined pages a satin bookmark elegant endpapers and featuring the Ted Baker logo in gold bookplate on the spine.British brandA5 sized pagesBookmarkTweed designLined pagesAs you would expect with Ted baker they have put a twist on a traditional theme and with this notebook you get a wonderful brogue effect on the cover as trim and the inner covers are decorated in a frontiersman's design.Size: L15 x H21cmSo whether you are logging exploits on your journey across Alaska or simply writing up your shopping list this notebook will prove to be an invaluable record for future generations.
Plus another 0 new products