by Sarah - February 28th, 2015.
Filed under:
Crocus
,
Price Reductions
.
Reduced price on lines today at Crocus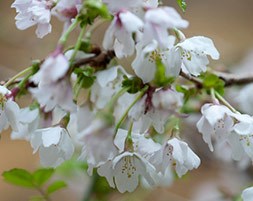 Prunus incisa 'Kojo-no-mai' (Fuji cherry) was £12.99 now £11.99
The photos on this page shows the plant with gift wrap. This is not included in the price, however you may add gift wrap (for an additional charge of £4.95) during the order process. Position: full sun Soil: moist, well-drained fertile soil Rate of growth: slow growing Flowering period: March to April Hardiness: fully hardy This is a pretty, delicate-looking, deciduous shrub with wiry twigs that burst into life in late winter and early spring when the crimson buds open to display pale pink flowers. The young leaves are long and pale green, growing darker with age, and turning glorious shades of red and orange in autumn. It has compact, rounded shape and a gently spreading habit, which makes it an excellent shrub for small gardens, or for a Japanese-style garden. Garden care: When planting incorporate lots of well-rotted garden compost in the planting hole and stake firmly. Lightly prune in summer to retain the shape and cut back any dead, diseased or branches which cross to healthy wood.
The garden line was £17.99 now £13.99
Inspired by a traditional design, these ornate metal pegs come with 25m of natural jute cord and can be used to set out your new beds or make sure that all your seedling rows are nice and straight. In fact they can be used anywhere you need to get a straight line between two points. Measures: 14 x 6 x 35cm
Aged terracotta pot and wire basket set was £16.99 now £14.99
The terracotta pot set comes complete with 4 aged terracotta pots and wire basket. This pot set can create a rustic look to any plant when placed in your conservatory or garden. Measurements: Wire basket: Height – 8.5cm Width – 22cm square Pot diameter: 10cm