by John - February 28th, 2015.
Filed under:
GreenFingers
,
Price Reductions
.
Reduced lines at GreenFingers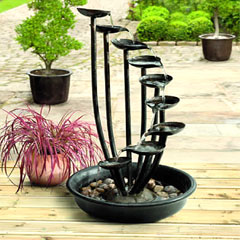 Gardman Rain Drops Water Feature was £134.99 now £89.99
Add a contemporary feel to your garden with this Gardman Rain Drops Water Feature. It makes a stylish addition to your patio or garden and exudes a sophisticated charm with its beautiful spiral design. Enjoy the soothing sound of water gently flowing from the top of the feature over the 9 levels to gather in the bowl at the bottom.It has been produced in a steel decorative finish to create an elegant and durable feature which is self-contained and does not require attaching to a water source.The Rain Drops feature comes with everything you need to get up and running once it has been installed and is supplied with a pump all fittings pebbles and instructions.Enhance the look and ambience of any garden no matter how big or small and add an extra dimension that will delight you whenever you relax in your own idyllic haven.Water capacity: 20 LitresUse indoors and outdoorsDimensions: D41.5 x H82cmContentsRain Drops Feature x 1Pump x 1Pebbles x 1Instructions x 1Fittings kit x 110m cable x 1Please note: This does not come with a plug due to safety measures. This product is designed to be permanently wired to the mains supply using a Residual Current Device for your protection. The installation must conform to the regulations of your local electricity authority. Click here for Assembly Instructions. Requires Adobe Reader.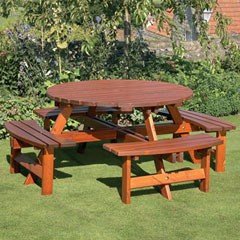 Anchor Fast Richmond Large Round Picnic Table was £379.99 now £369.99
This superb quality picnic table can easily seat eight people and includes a hole for a parasol.Made in the UK from teak treated hard pine slow grown in Northern climates for a denser longer lasting timber. Table 134cm diameter diameter including chairs 211cm; table is 3cm thick. Bench height: 79cmParasol hole: 4.2cmWeight 78kg. Self assemblyClick here for Pine Information. Requires Adobe Reader.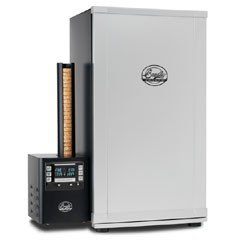 Bradley 4 Rack Digital Smoker was £499.99 now £469.99
Perfect for entertaining creating gourmet foods in your own home or just enjoying the flavour that smoking brings the Bradley 4 Rack Digital Smoker offers an easier and better way to automatically roast smoke and barbecue in the outdoors and can do hot or cold smoking. Temperature time and smoke are completely controllable so you can decide how much smoke you want how long your food is going to be smoked for and at what temperature. Light enough to carry and about the size of a small fridge this Bradley 4 Rack Digital Smoker is the most versatile and capable food smoker available and is sold complete with its accompanying smoke generator in which flavour bisquettes are burned for 20 minutes each so that the temperature does not fluctuate thus eliminating the high temperature gases acids and resins that can distort the flavour of smoked food. It makes clean tasting food without any aftertaste and while other smokers need to be tended constantly the Bradley Smoker automatically produces clean cool smoke for up to 8 hours safely and without intervention. Additionally the Bradley Smoker will also hot smoke or may be used simply as a slow cooker or slow roasting oven. The low temperature cooking environment is perfect for any smoking project and the infra red heater source is also particularly well- suited for drying fruits. The secret to the Bradley Smoker is the Bradley Flavour Bisquettes. The Bradley Smoker burns a flavour bisquette once every 20 minutes producing a clean smoke flavour. As each is burnt it is gently pushed from the burner element by the next bisquette to be extinguished in the pot of water. The cycle continues for as long as the Bradley Smoker is loaded with bisquettes. Not only do they eliminate unwanted heat and smoke produced but the Bradley way is four times cleaner than smoke produced by identical loose chips burned in a fry-pan or burn-box. The Bradley Smoker consumes bisquettes at the rate of approximately one every 20 minutes. Operating costs of the smoker are therefore less than
Plus another 0 great reductions