by Sarah - March 26th, 2015.
Filed under:
Crocus
,
New Products
.
Crocus just added these new products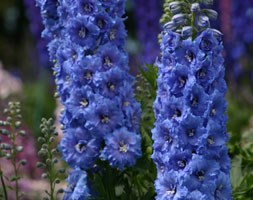 Delphinium 'Blue Lace' (New Millennium Series) (delphinium) £7.99
Position: full sun Soil: fertile, well-drained soil Rate of growth: average Flowering period: June and July Hardiness: fully hardy Each sky blue floret has a lavender pink flush and a light eye, so the inflorescence is very striking when fully open. Useful for providing a bold focal point in the border where they associate particularly well with Echinaceas, Iris, Paeonias and Eryngiums. Delphiniums are excellent in the mixed or herbaceous border if you want to create vertical interest, and for best effect they should be planted in odd-numbered clumps or drifts. To encourage a second flush of flowers in late summer you should cut the flowered stems back as soon as they have finished. Garden care: For best results, choose an open spot away from taller plants. Stake with bamboo canes as they start to shoot upwards in mid-spring and protect young foliage against slug and snail damage. During the growing season, apply a balanced liquid fertiliser every 2-3 weeks and wearing gloves cut back the faded flower-stems to a flowering side-shoot to encourage repeat flowering. At the end of autumn cut back and compost the faded flower stems.
Centranthus ruber 'Albus' (valerian) £5.99
Position: full sun Soil: well-drained, neutral to alkaline Rate of growth: fast-growing Flowering period: May to October Hardiness: fully hardy This free-flowering, perennial has slightly fleshy blue-green leaves on upright stems, that are topped with sweetly scented, off white flowers with a pinkish tinge from late spring. Cut back after flowering to encourage a second flush. Garden care: Deadhead regularly throughout the summer to prolong flowering. In autumn cut the plant back down to the ground and compost the dead stems.