by Sarah - April 10th, 2015.
Filed under:
Crocus
,
Price Reductions
.
Crocus has cut the price of these products
The Greenhouse Collection (vegetable plug plant collection) was £34.99 now £32.99
Position: full sun Soil: humus-rich, moisture retentive soil Rate of growth: fast Hardiness: tender Greenhouses are great for extending the growing season as you have a degree of control over the environment. Warmer air and soil temperatures mean that you can start crops of earlier and still be enjoying the harvest when those plants left outside have long passed it. All the plants that make up this collection will thrive in the warmer conditions inside a greenhouse. Suitable for growing in big pots and growbags in an average sized greenhouse. The collection contains the following seasonal selection – 2 x tomato 'Gardeners Delight' – an easy to grow, cherry tomato with exceptionally flavoured, bright red fruits. 2 x tomato 'Golden Sunrise' – Producing medium sized well shaped golden yellow tomatoes adding a splash of colour for summer salads. 2 x tomato 'Super Marmande' A great tomato for salads or for cooking. A large juicy beafsteak tomato with a rich juicy flavour. 2 x tomato 'Garden Pearl' This bushy compact tomato is ideal for pots and windowboxes, this heavy cropper produces tasty, sweet cherry tomatoes which are red flushed pink. 4 x sweet pepper (mixed red & green) – these plants are incredibly versatile and are ideal for salads or stir fries. You will receive 2 green & 2 red varieties. 'Californian Wonder' – beautiful bell shaped green fruits with a very sweet crisp taste. 'Long Red Marconi' – masses of long thin fruits are produced from this new Italian variety. They have a particularly mild sweet taste, ideal for salads and stir fry. 1 x cucumber 'Marketmore' A tasty straight fruiting slicing cucumber which has excellent resistance to powdery mildew. ideal for growing in pots and growbags. 1 x aubergine 'Moneymaker' – a vigorous variety with dark purple delicious tasting fruits. Great for a stir-fry. 5 x wild rocket Spice up your salads with this easy to grow herb. The younger leaves can be used for a more mild taste. 10 x lettuce (mixed) You will receive a selection of lettuce from the following tasty varieties. 'Roselee – A vibrant red oakleaf with very good flavour and resistant to mildew 'Pearl' – a little gem lettuce with a delicious, sweet taste. 'Sonya' – Bright green firm heads, succulent with a delicious sweet taste. Great on its own or in a mixed sal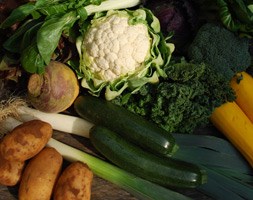 The Ultimate Winter Vegetable Collection (vegetable plug plant collection) was £47.99 now £44.99
Position: full sun Soil: humus-rich, moisture retentive soil Rate of growth: fast Hardiness: hardy No need to stop producing a bountiful crop of vegetables after the temperatures drop. This collection of vegetables can be harvested throughout winter and added to hearty stews and roast dinners. Yum! Suitable for filling a well prepared vegetable patch aproximately 10m2. The collection contains the following seasonal selection – 10 x cauliflower (autumn & winter). Spread the harvest season with both autumn and winter-ready cauliflowers. You may receive 5 x 5 x 'Aviso' – Summer cauliflower. Fresh tasting, crisp white curd. Extremely versatile, with high resistance to cold and disease. 5 x 'Cendis' – which is ready to eat in December. 10 x novelty cauliflower. Some more unusual varieties, which could include 5 x 'Navona' – a romanesco type which is architecturally stunning and has a fresh, nutty taste, and 5 x 'Graffiti' – a purple cauliflower with a delicious, sweet taste. 10 x cabbage (mixed) A lovely mix of varieties will be heading your way. Some of the varieties may include; 'Roedeo' – eye catching, large red headed cabbage with excellent resistance to frost. 'Duchy' a fast growing 'hispi' type that has a sweet taste. Excellent in stir fries or salads. 'Tundra' – late maturing savoy cabbage cross Dutch white variety with fantastic winter hardiness. 'Mozart'- a pale green summer cabbage with excellent holding capacity. 10 x broccoli (mixed) A couple of unusual varieties make up this selection. You may receive 5 x 'Ironman' – a superb, vigorous broccoli with tasty, dome-shaped, deep green heads and 5 x 'Red early' – a unique variety, as it doesn't need winter weather to initiate flowering. Produces succulent stems through the summer months. 10 x swede 'Helenor' – a main crop, high yielding swede with a good globe-shaped root and sweet, light orange flesh. 10 x Brussel sprouts (mixed early mid & late) We will send 3 or 4 of each variety to make up the 10 plants, and they may include – 'Maximus' – ready to harvest from September, these are sturdy plants with tasty sprouts. 'Helemus' – ready to eat from late autumn to Christmas, this variety will produce a bumper crop. 'Batavus' – a first class variety with delicious, sweet tasting sprouts.