by John - April 16th, 2015.
Filed under:
Harrod Horticultural
,
Price Reductions
.
Harrod Horticultural has cut the price of these items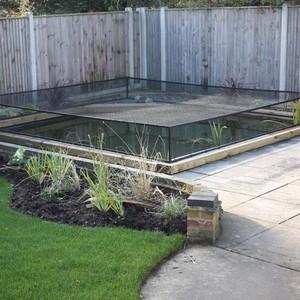 Raised Steel Pond Cover was £120.00 now £114.00
Keeping Leaves And Other Plant Debris Out Of Your Pond Has Long Challenged Gardeners And Fish Enthusiasts, But Our Raised Steel Pond Covers Provide The Perfect Solution. Combining The Strength Of Black, Polyester Powder Coated, Galvanised Steel With The Protective Qualities Of Our 19mm Mesh Knotted Netting, The Steel Pond Covers Effectively Keep Leaves And Debris Out Of Your Pond And Helps To Protect Fish Too.falling Leaves Decompose And Cause Algae To Flourish But Thanks To The Raised Steel Pond Cover Designs – Available In A Wide Range Of Sizes From 1.5m Square Up To 3.5m Square – Cloudy Water Could Be A Thing Of The Past! Herons And Other Fish Predators Will Also Struggle To Penetrate The Knotted Net And The Steel Framework Blends Into The Garden Background.please Note That The Steel Pond Covers Are Not Designed Or Guaranteed To Prevent Children Or Pets From Falling Into Ponds, And Young Children Should Always Be Supervised Near Garden Ponds Or Water.steel Pond Covers Manufactured From 25mm/1″ Square X 1.5mm Thick, Galvanised And Black Polyester Powder Coated Steelcovered With High Quality Polyethylene 19mm Square Mesh Knotted Netraised Pond Covers Are 40cm High To Avoid Marginal Plantingalso Available In Flat Steel Pond Cover Versionsnetting Is Whipped Neatly Onto Frame With Twinesimple To Assemblepond Covers Available In A Wide Range Of Sizes From 1.5 Sqm To 3.5 Sqmlay Covers Side By Side To Span Larger Pondsframes Can Be Easily Moved Or Stored19mm Mesh Netting Will Collect All But The Smallest Of Leavesideal Way Of Preventing Leaves And Other Debris From Entering The Pondeffective Deterrent To Herons And Other Predatorsframework Identical To That Used On Our Heavy Duty Steel Fruit Cagesself Assembly Required – Full Instructions Includedno More Struggling With Awkward, Wet Netting10 Year Framework Guaranteewe Also Offer A Complete Made To Measure Service If You Dont See The Size Or Style You Want – Contact Our Made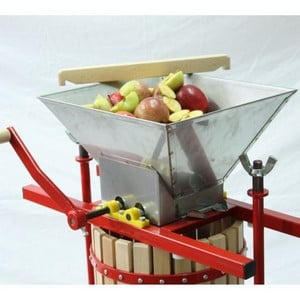 Fruit Crusher was £235.00 now £149.95
Simply Drop Halved Apples Or Pears Into The Stainless Steel Hopper And As The Handle Is Turned The Blades And Rollers Cut And Crush The Fruit To Maximise The Amount Of Fruit Juice When Put In The Fruit Press.fruit Crusher Measures 9.5″/23cm H X 13.75″/35cm W X 22.5″/57cm Lweighs 8.8kgcompatible With The 12, 20 And 36 Litre Cross-beam Fruit Pressescan Also Be Placed Over A 33 Litre Buckethigh Quality Construction Includes Rollers And Blades Made From Acid Resistant Alloyavailable With A Crank Handle (gdn-501 Special Offer Price Of 149.95) And A Wheel Handle (gdn-502)weve Run Some Tests To Find Out Just How Efficient Using A Crusher Prior To Pressing Your Apples Can Be – And The Results Are Staggering! After Cutting 30 Apples Into Quarters And Putting Them Straight In The Press It Produced 350ml Of Juice, But Running The Same Amount Of Quartered Apples Through A Crusher First Produced A Whopping 1600ml Of Fresh Juice – An Increase Of 357%!