by John - May 6th, 2015.
Filed under:
Harrod Horticultural
,
New Products
.
Harrod Horticultural has this new item today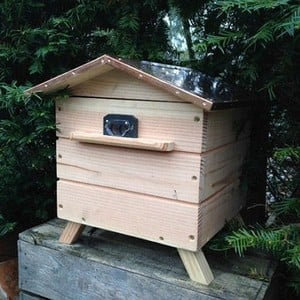 Beepol Large Bumblebee Lodge With Copper Roof And Hive Voucher £199.95
A Gorgeous, New Large Copper Roof Beepol Villa With Hive Voucher Has A Clear Viewing Window So That The Colony Of Up To 90 Bees Can Be Observed Easily. The Live Hives Will Be Sent Out During Our Bee Season, April – July, So That The Bees Can Get Most Pollen From Your Garden.ideal For Pollination Of Larger Gardens, Estates And Orchards The Large Beepol Villa Is Made From Wood Harvested From Sustainable Sources And Is Built To A High Quality Design In The U.k.beepol Villas And Hives Can Be Used To Pollinate A Wide Range Of Plants Including Fruit Trees, Soft Fruit, Wildflowers And Vegetables.the Large Beepol Copper Roof Villa With A Hive Gift Voucher Is Available All Year Round As A Very Unique Gift Ideasimply Send Off The Voucher When Youre Ready And You Will Be Sent Your Live Large Bumblebee Colony During Our Bee Season ( April – July)a Copper Roof For Weather Protection Of The Live Beepol Bumblebee Colony Withinventilation For Air Flow And Cooling In Hot Weather Conditionsanti-wax Moth Trap Door To Reduce The Risk Of Wax Moth Attacksturdy Legs To Raise The Large Beepol Villa Off The Groundeach Large Beepol Bumblebee Hive Has A Queen, Workers And Eggsthe Hive Has 60-80 Workers At The Start, But Will Build To Much Higher Numbers Than Our Standard Beepol Hivehive Features A Clear Viewing Panel In The Lid To Watch As The Colony Developsthe Hive Is Supplied With Its Own Sugar Water As An Internal Food Sourceeach Colony Will Normally Live For 3-4 Months, Depending On Conditions And Weatherlive Hives Are Delivered Between April And July Each Yearbeepol Bumblebees Are A Native Species – Bombus Terrestris Audax.includes A Free Fsc Bee Guide, To Help You Identify Other Bees Who Visit Your Garden.