by John - May 12th, 2015.
Filed under:
GreenFingers
,
New Products
.
GreenFingers just added these new items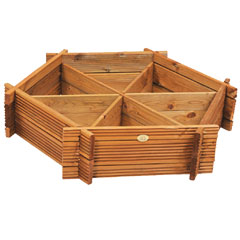 Joseph Bentley FSC Herb Wheel £59.99
Not having beds for growing plants herbs and vegetables shouldn't stop you trying this very rewarding pastime and the Joseph Bentley FSC Herb Wheel gives you 6 individual segments to start growing your own delicious selection of herbs.Not only will it give you extra growing capacity in your garden but it is also a great idea for gardeners who are less physically able and might not be as comfortable reaching down to ground level.Made from FSC certified redwood pine mix that is sourced in the UK this wheel is easy to assemble and as every slat of wood has been pressure treated to protect them from rot and mould once built is robust enough to last many growing seasons. What could be better than going into your own garden and picking fresh herbs for your evening meal!Six individual segmentsDimensions: W107 x D107 x H24cmPressure treated FSC woodBiocidal product regulation EU528/201215 year guarantee Treated with ACQ pressure treatment this product is designed to last. While assembling this product it is advisable that you wear gloves and that you wash fruit and vegetables before consuming them. It is also inadvisable to burn pressure treated timber. Our FSC trademark licence code is FSC N001623 Click here for Wood Information. Requires Adobe Reader.
Plus another 0 new products