by John - May 16th, 2015.
Filed under:
Harrod Horticultural
,
Price Reductions
.
Harrod Horticultural has cut the price of these products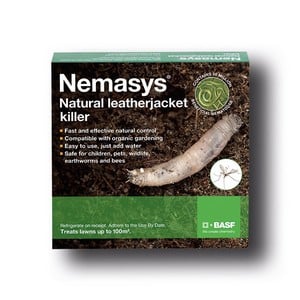 Nemasys Leatherjacket Killer was £74.95 now £16.95
From The Renowned Range Of Nemasys Natural Pest Control Comes Nemasys Leatherjacket Killer – And Youll Need It If Your Lawn Has Developed Brown Patches And The Grass Has Little Root Growth As The Chances Are Youve Got Leatherjackets (the Larvae Of The Cranefly Or Daddy Longlegs). the Prolific Lawn Pest Is Hunted Down And Killed By The Nematode Steinernema Feltiae Contained In Nemasys Leatherjacket Killer But There Is Only A Small Window Of Opportunity To Prevent This Very-expensive-to-repair Lawn Damage; Nemasys Leatherjacket Killer Applications Should Be Made 1 – 2 Weeks After The First Craneflies Have Been Spotted From Late August Onwards. An Earlier Treatment Of Nemasys Leatherjacket Killer Can Be Made In Spring As Long As Soil Temperatures Are In Excess Of 10c But This Application, Although Occasionally Successful, Is Not As Productive As The Typical Autumn Dose. please Note: This Item Will Be Despatched At The Optimum Time For Application. This Live Product Is Despatched To Uk Mainland Addresses Only!nemasys Leatherjacket Killer Should Be Applied From Late August To End Of Octobersupplied In Two Pack Sizes – 100m And 500mcan Be Applied In Spring When Leatherjackets Begin Feeding But Not Always Successfulspring Application Useful With Severe Infestationssimply Water Onto Soilfull Instructions Providedessential To Keep Lawn Moist Before And After Applyingmuch More Cost Effective Than Re-turfing A Lawnsafe To Use Around Children, Pets And Wildlifenematode Pest Control Deliverybeing A Live Product Nematodes Are Ordered Weekly Every Thursday. The Nematodes Are Then Delivered On Wednesday Of The Following Week For Delivery By The End Of The Week.for Example An Order Placed On A Monday Would Be Ordered On Thursday, Received The Following Wednesday For Delivery By The End Of That Week.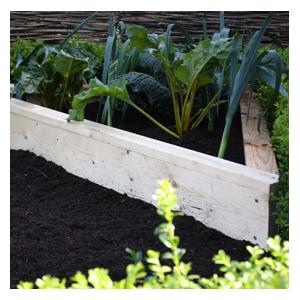 Allotment Corner Wooden Raised Beds was £29.00 now £24.30
Theres Always A Corner Of The Garden That You Cant Quite Squeeze A Normal Square Or Rectangular Vegetable Growing Raised Bed Into, But That Could All Be About To Change With These 122cm X 122cm X 172cm Allotment Corner Style Wooden Raised Beds. these Corner Beds Are Available In 3 Heights 15cm, 30cm And 45cm And Are Ideal For Growing Vegetables, Salads And Herbs. Designed In-house And Made From Pressure Treated Scandinavian Softwood Sourced From Sustainably Managed Forests The Raised Beds Come With A 2 Year Structural Guarantee. if You Want Reliable Crop Protection For Your Raised Bed Then Try Our Purpose Built Frame Which Comes Complete With Aluminium Tubing, Connectors And A Fitted Insect Mesh Cover (gdn-977). The Cover Has Side Velcro Fastening For Easy Access And A Strong Band Along The Bottom Edge Which Has Eyelets For Securing With Ground Pegs. please Note: Timber Is A Natural Product And Susceptible To Shrinkage/swelling, All Sizes Are Therefore Nominal. Sizes Apply To External Dimensions.each Corner Wooden Raised Bed Measures 122cm X 122cm X 172cmavailable In 3 Working Heights; 15cm, 30cm Or 45cmresearched And Designed In-housemanufactured From Scandinavian Softwood Sourced From Sustainably Managed Forestshigh Pressure Treated With A Non-toxic Preservativestructurally Guaranteed For 2 Yearscomplete With Full Instructionssimple To Assembleoptional Capping Gives The Top Of The Beds An Elegant Finishsupplied As A Kit For Self Assemblyinsect Mesh Cover And Frame Also Available For Ultimate Crop Protection – Select Gdn-977 From List.standard Corner Raised Beds Superior Corner Raised Beds Also Available.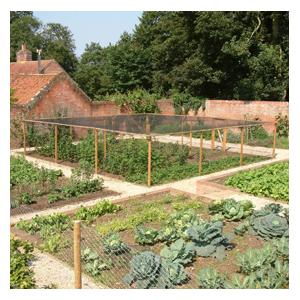 Timber Fruit Cages was £393.00 now £357.00
Our Walk-in Timber Fruit And Vegetable Cages Introduce A Rugged And Natural Look To The Garden And As Well As Being Tough, Rough And Ready, They Really Enhance The More Classic Style Of Kitchen Garden.that Olde Worlde Rustic Look Disguises The Real Strength In Depth That The Wooden Walk-in Fruit Cages Possess; Manufactured From Substantial 102mm Tanalised Round Wooden Uprights And The 102mm Half Round Wooden Roof Supports, This Is One Fruit Cage Which Will Withstand Practically All The Weather – Not Forgetting Birds And Rabbits – Can Throw At It.and When You Consider These Wooden Fruit Protection Cages Boast The Best In Anti-bird Roof Netting And Heavy-duty Extruded Side Netting, It Will Come As No Surprise That Our Walk-in Wooden Fruit Cages Are Very Popular.also Available Is A Wide Range Of Timber Fruit Frame Optional Extras, Giving Your Garden That Rare Combination Of Functionality And Good Looks!walk-in Timber Fruit And Vegetable Cages Comprise Of Sturdy, Wooden Uprights And Supports And Roof And Side Nettingcages Feature Extra Heavy-duty Side Netting With A 16mm X 16mm Square Meshheavy-duty Anti-bird Roof Netting With A 18mm X 18mm Diamond Meshsupplied With All Fittings And One Complete Door Kitset Distance Between Uprights Is 3.6mwe Recommend Hiring A Post Driver (available From Tool Hire Companies) To Assist With Inserting The Uprights 457mm (18″) Into The Groundwhen Erected The Cage Sits 2m Out Of The Groundon The Larger Cages The Internal Cross Supports Are Achieved Using Plastic Coated Wire At Tension To Prevent Sagging Of The Roof Nettingcomes With A 5 Year Framework Guaranteefully Illustrated Instructions Are Included To Ensure Accurate Constructionfor Areas Seriously Affected By Rabbits Or Deer An Additional Layer Of Rabbit Wire Can Be Applied Over The Heavy-duty Side Nettingbutterfly Netting Is Also Availableinstalling The Cage On Sloping Ground Or Looking For A Different Size, Please Contact Our Made To Measure Tea