by Sarah - May 21st, 2015.
Filed under:
Crocus
,
New Products
.
New products at Crocus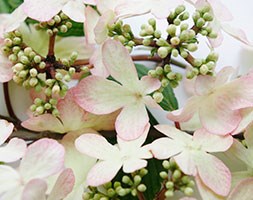 Viburnum plicatum f. tomentosum Kilimanjaro Sunrise (viburnum) £22.99
Position: full sun or partial shade Soil: moderately fertile, moist, well-drained soil Rate of growth: average Flowering period: May to June Hardiness: fully hardy Very pretty, white flushed pink lacecap-like flowers appear on the tiered branches of this conical, deciduous shrub in early summer. More upright in habit than the species, it is perfect for the shrub border where space is at a premium. In autumn the leaves will take on good fiery colours before they fall providing another season of interest. Garden care: Keep the pruning of young plants to a minimum. Any vertical shoots that threaten to spoil the distinctive tiered shape of established plants should be cut back to their point of origin in summer after flowering.
Stipa lessingiana (Siberian steppe grass) £8.99
Position: full sun Soil: moderately fertile, medium to light, well-drained soil Rate of growth: fast-growing Flowering period: June to September Flower colour: silver-green maturing to blonde-buff Hardiness: fully hardy Very similar to the popular Stipa tenuissima, this hardy grass has wonderful, wispy, pale yellow-green leaves topped with fluffy plumes of silver-green flowers, maturing to blonde-buff. This versatile deciduous grass is ideal for a sunny gravel garden, large container or new perennial border. It's perfect for introducing movement into a planting scheme since the fluffy flower heads and foliage billow in the slightest breeze. Garden care: Cut back in early spring before the new foliage appears .