by Sarah - June 5th, 2015.
Filed under:
Crocus
,
Price Reductions
.
Crocus has cut the price of these products
Rosa 'Sunny Sky' (Rose of the Year 2016 Rose Sunny Sky) was £19.99 now £14.99
Position: full sun Soil: fertile, humus-rich, moist, well-drained soil Rate of growth: fast-growing Flowering period: June to September Hardiness: fully hardy Voted Rose of the year for 2016, this repeat flowering hybrid tea rose produces large flowers. It is quite a distinctive new rose, that is the result of selective breeding by W. Kordes. Its lightly fruity scented flowers, its honey-yellow buds lighten to soft yellow. The petals have a darker coloured base . It is said to have excellent disease resistance too. It is an easy care choice for novice or experienced gardeners. All our roses are grown in an open field and then dug up when the weather conditions are right in October or November. They will already have been cut back so no further pruning will be required, apart from snipping off any tips that have died back. Routine pruning can begin in late winter the year after planting. Garden care: If planting in winter, choose a frost-free spell when the soil is not frozen. Roses are quite deep-rooted plants so dig a deep hole roughly twice as wide as the plants roots and mix in a generous amount of composted organic matter. A top-dressing of a general purpose fertiliser can be worked into the surrounding soil and we also recommend using Rose Rootgrow at this stage to encourage better root development. This is particularly important when planting into a bed where roses have previously been grown as Rose Rootgrow is said to combat rose sickness (aka. replant disease). Gently spread out the roots before placing them in the centre of the hole. Try to ensure that the 'bud union' (the point where the cultivated rose has been grafted onto the rootstock, and from where the shoots emerge) is at soil level. You can judge this quite easily by laying something flat, like a spade handle or bamboo cane, across the top of the hole. When they are at the right height, back-fill the hole, firming the soil down gently before watering the plant well. Water generously until well established, and apply a specialist rose fertiliser (following the manufacturers instructions) each spring. They will also benefit from a generous mulch of composted farmyard manure in spring, but make sure this is kept away from the stems. While wearing tough gloves, prune in late winter or early spring, removing any dead, damaged or weak-looking stems completely. The younger stems tend to produce the best flowers, so
Rome folding bistro set – orange was £219.99 now £199.99
Our italian metal furniture range is made from the highest quality steel with a weather-resistant finish meaning the furniture can be left outdoors all year round. The finish is completed in four seperate process to ensure the best quality and longevity. The final process is the painted powder coating in one of our selected colours, which is then baked at high temperatures resulting in a highly weather-resistant protective finish. This furniture set has a 2 year guarantee. This bistro set is available in either, white, bronze, green, teal or orange and includes a folding table and two folding chairs. Table measurements: Height: 75cm Length: 70cm Width: 50cm Chair measurements: Height: 81cm Length: 42.5cm Width: 43cm
Lutyens bench – eau de nil was £249.99 now £229.99
Using the same design that was created by the renowned architect Sir Edwin Lutyens over 100 years ago, this bench is a design classic. Our eau de nil paint finish however, has given it a fresh, contemporary twist. Made from long-lasting and hardwearing FSC certified Acacia, it will look fab gracing a patio, lawn or conservatory. This item is supplied partly assembled, It is relatively easy to build with bolts and all the tools you need to put it together. Please note the cushion is not included. Measurements: Total Height: 100cm Length from Arm rest to arm rest: 147.5cm Length of the seat: 128cm Width of seat: 60cm Distance from floor to seat: 39cm New improved design, including a hardwearing better thickness of wood to improve sturdiness and quality. With all outdoor furniture the ideal scenario is to cover the items up with a water proof cover or sheet if you are going to leave it outdoors over the winter months.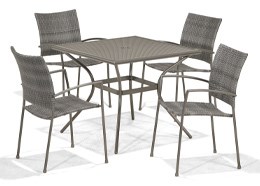 Juniper 4 seater set was £429.99 now £409.99
This attractive iron and woven rattan set has undergone rigorous testing to ensure that it will last for years to come. The tubular metal frame has had a number of protective coatings applied to ensure that it is weather and scratch resistant and that it will remain rust free. The woven rattan is made from raw polyethelene mixed with eco-friendly colour additives, making it 100% recyclable. Also, the wicker contains no harmful chemicals or raw materials which are dangerous to the environment. This solid and reliable set comes with a 5 year guarantee and needs very little maintenance. A simple clean with soap and water is all that is required. The smaller square table and four stacking chairs can be used in more confined spaces and can be stored away easily. The chairs arrive assembled and the table part assembled. Table measurements: Height: 74cm Width: 88cm Chair measurements: Height: 87cm Length: 55cm Width: 61.1cm