by John - July 29th, 2015.
Filed under:
GreenFingers
,
New Products
.
New lines at GreenFingers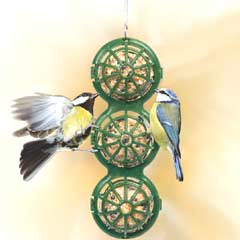 Jacobi Jayne Basketball Bird Feeder £1.99
The Jacobi Jayne Basketball Feeder lets wild birds feed without the risk of getting tangled in nets. This colourful hanging basket can hold up to three suet balls and is the safe simple no-nets way to offer fat balls to your feathered friends. It snaps open and shut for instant refills and can be placed on a tree branch or hanging bracket. Suet is the energy giving food to offer wild birds as not only do they find it delicious but also it is highly nutritious Burgon & Ball Natural Willow Window Box Planter £9.94
Grow your own herbs or small flowering plants in this Burgon & Ball Natural Willow Window Box Planter! It comes with a durable allotment planting bag and features a stylish willow surround. It makes an eye-catching addition to your external kitchen windowsill or balcony and an excellent planter for up to 4 varieties of herbs. This is a fabulous gift idea for a kitchen gardener or someone short on space or simply to treat yourself to. Home grown produce tastes wonderful although a vivid display of flowering plants brightens up any area. Can be flat packed for winter storageDimensions: W50 x D15 x H15cmCapacity: 9 Litres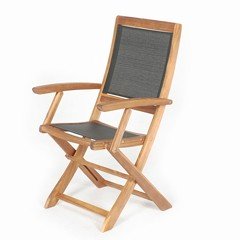 Greenfingers Cadiz FSC Acacia Poly-Weave Chair – Black £49.99
The Greenfingers Cadiz FSC Acacia Poly-Weave Chair in black is perfect for enjoying a sunny day out in the garden. Not only is it pleasing in appearance but it is comfortable too so sit back with a good book and enjoy. A great value folding chair that folds easily to store.This chair is made from FSC certified acacia with quick drying Poly-Weave seating. Acacia is a durable hardwood known for its wonderful grain and rich colouring – this gives it a warm appearance and makes it ideal for any location. Greenfingers recommends that all furniture is protected during the winter either by covering with furniture covers or storing the furniture indoors. All Greenfingers Garden Furniture arrives flat-packed and will require some assembly. Overall dimensions: W53 x D63 x H97cm Seat dimensions: 40.5 x 42cm Click here for Acacia Information. Requires Adobe Reader.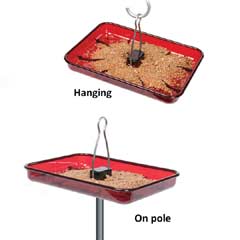 Jacobi Jayne PlatformOne Bird Table £14.99
Perfect for ground-feeding wild birds the Jacobi Jayne PlatformOne Bird Table is a great alternative to traditional wooden bird tables. It provides your feathered friends with a flat stable surface and has drainage holes to help keep the food dry and mould-free. You can either hang it using the central hanger or place it on top of a pole using the integrated socket. Styled in tough coloured polycarbonate it is easy to spot in your garden and easy to clean. It is a great way to offer visiting wild birds a variety of food from seeds and suet balls to scraps. Feeding garden birds does not need to be expensive as many of the food scraps you throw away provide suitable food for birds. Birds love the fat from unsalted cuts of meat and mild grated cheese is a favourite with robins dunnocks blackbirds and song thrushes. Apples pears and other fruit including bruised and part rotten ones cut up are very popular with all thrushes tits and starlings. Pastry cooked or uncooked is excellent – especially if it has been made with real fats. Fat including suet is particularly welcomed by tits great spotted woodpeckers thrushes and wrens. However please avoid polyunsaturated fats as they do not give the birds the high levels of energy they require in winter.Seed not includedFits onto 2.5cm diameter polePole not includedWith disappearing habitats and climatic changes the Royal Society for the Protection of Birds (RSPB) and the British Trust for Ornithology (BTO) both recommend the year-round feeding of garden birds to maintain a healthy and viable flock of native species. Feeding requirements are greater in late autumn and winter when natural resources are in shorter supply and high energy levels are also needed during spring when birds are busy breeding and raising young. Once you have established a feeding regime – don
Plus another 0 new products