by John - August 12th, 2015.
Filed under:
Harrod Horticultural
,
New Products
.
Harrod Horticultural has this new product today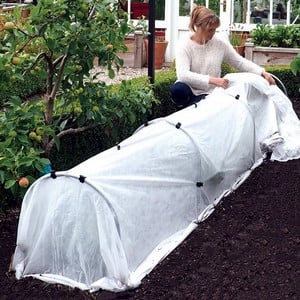 Fleece Tunnel Kit – 3m £49.00
The 3m Long Fleece Tunnel Is A Cost Effective Way To Protect A Row Of Plants From Frost And The Strong 30gsm Fleece Will Also Stop Hail, Strong Winds, Birds And Insects From Damaging Your Plants.designed Using Our Best Selling 19mm Diameter Galvanised High Top Steel Hoops, Supported Rigidly By Steel Linking Top Rods, With Uv Stabilised 30gsm Fleece And Clips That Hold Fleece In Place At The Top And Sides. The Hoops Can Be Securely Pushed Into The Ground Or Optional Heavy Duty Steel Ground Anchors Can Be Used. Ground Pegs Are Also Included To Secure The Fleece. overall The Fleece Tunnel Measures 3m Long X 48cm Wide X 57cm High And The Complete Kit Saves 10 On Buying The Items Separately. 3m Long X 48cm W X 57cm Hstrong Uv Resistant 30gsm Garden Fleeceprotect Against Frost, Wind, Hail, Birds Insectseasy To Assemblewarms Soil For Earlier Sowingkit Includes:-4 X Hoops (48cm/19 W X 57cm/22.5 H)2m X 5m 30g Insulating Fleece6 X Top Hoop Clips10 X Side Hoop Clips3 X 1m Linking Rods; 15 X 17.5cm/7 Ground Pegs.